Weekend Forecast: Can Machete Out-Hack Drew Barrymore at the Box Office?
O, Labor Day, you lazy long weekend, you musty farewell. And seriously, summer: Good riddance. The holiday frame offers up a storm-shattering tandem of films well worth your time, money and consideration after a gruesome August, as well as one stinker to help balance out the cosmos. (Or something. I don't know why it exists, to be honest.) Grab a lawn chair, pop open a beer, and meet me after the jump to talk it over.
NATIONAL FORECAST
Going the Distance: The optimist in me would love to believe that the rollicking splatter show Machete might come after this Drew Barrymore/Justin Long romcom with his weapon of choice, shaving a few million dollars off the opening gross and stuffing it in his leather vest en route to a sequel. You could probably argue that the long-distance couple in Going the Distance would even choose Machete over their own film on one of their all-too-rare date nights. But the cynic in me knows better: The market is due for a Barrymore lady-pleaser, and it will reward her and Warner Bros. accordingly before shuffling off to the beach wondering why it even sees movies anymore anyway. And the moderate, practical prognosticator in me couldn't give a crap either way. FOUR-DAY FORECAST: $16.4 million (See Movieline's full review here.)
Machete: You pretty much know what I have to say about the Robert Rodriguez and Ethan Maniquis's Mexploitation barnburner, up to and including its modest opening-weekend prediction. I can bump it up a little bit as word-of-mouth spreads among the mainstream, but it's still a pretty acquired fanboy taste that might have blown its best shot at crossing over by avoiding the political spotlight. It is so genuinely subversive -- not only inverting America's neocon, border-militia mythology in the name of immigrant revolution, but explicitly calling for Mexican rebellion -- that it could inhabit entire hours of Fox News, pages of Big Hollywood and an FBI file three inches thick. Of course, Fox is its studio, but all the better: Synergy through ideology! OK, maybe that beer wasn't such a good idea. FOUR-DAY FORECAST: $15.5 million
(See Movieline's full review here.)
THE PRIME DESTINATION
The American: Were Jean-Pierre Melville a contemporary filmmaker, he would make The American, a painstakingly composed, beautifully modulated and technically near-perfect film with a major movie star quietly making his way through a domino tumble of gun-making existential woe while exiled in Italy. Rowan Joffe's screenplay (adapted from Martin Booth's novel A Very Private Gentleman) leaves a little to be desired in in its dramatic paces (feel free to make a bathroom run whenever you see the priest), but George Clooney and director Anton Corbijn are so in sync with the tone of the thing -- and the title character's love interest (played by Violante Placido) is more earthily accessible than any smoking-hot Italian whore has any right to be -- that you can't help but give in. Focus Features' attempts to market it as an action thriller are hilarious (not to mention condescending and kind of irresponsible), but at least they're marketing it. I hope to God it works; this is a very, very good film. FOUR-DAY FORECAST: $13.7 million (See Movieline's full review here.)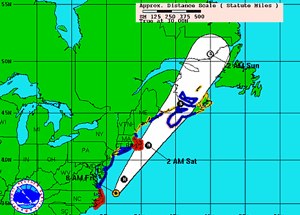 STORM WARNING
Eastern Long Island and Cape Cod: Look out! Earl's coming! May you dodge the tendrils of hurricaney horror and return to some semblance of normalcy for the long weekend ahead.
LOCAL OUTLOOK
A Woman, a Gun and a Noodle Shop (limited): Zhang Yimou remakes Blood Simple in a heightened Chinese dream state; mixed results ensue. (See Movieline's full review here.)
Clear Blue Tuesday (NYC): Who's up for an indie pop musical based on a cluster of young New Yorkers' live after 9/11? It's not supposed to be bad, actually, but... too soon? Too late?
Etienne! (NYC): Annoying hipster road-trip romance between a man and his terminally ill hamster. What? Don't tell me you haven't been there.
Highwater (expanding to LA): Dana Brown's nifty documentary about the surfing community on the North Shore of Oahu, and the world-renowned Triple Crown of competitions that has changed the sport for good.
Last Train Home (NY): Acclaimed doc about the mass migration of workers (130 million!) from Chinese cities and factory centers to their rural homes.
Max Manus (limited): A Norwegian saboteur makes life difficult for the Nazis, eluding the Gestapo and eventually becoming a founding member of the Oslo Gang.
Mesrine: Public Enemy #1 (NY, LA): The second part of Vincent Cassel's gangster epic finally makes its way to U.S. screens. (See Movieline's full review here.)
The Milk of Sorrow (expanding to LA): Oscar-nominated Peruvian import tracks the legacy of terrorism and tragedy in the life of one young woman. (See Movieline's full review here.)
My Dog Tulip (NYC): Christopher Plummer provides the voice in the animated adaptation of a British memorist's relationship with his beloved German Shepherd.
Our Beloved Month of August (NYC): Semi-documentary glimpse at a Portuguese film crew's attempt to make a feature -- which actually turns into that feature in the middle of the film. Pass the Aleve.
Prince of Broadway (NYC): Sean Baker's winning, microbudget tale of a Ghanaian immigrant thrust suddenly into single fatherhood while building a flashy niche for himself in Manhattan's famed Wholesale District.
Soul Kitchen (expanding to LA): Fatih Akin goes light with his fast, loose (and acclaimed) restaurant dramedy. (See Movieline's full review here.)
White Wedding (NYC, LA): Apartheid-tinged road-trip dramedy about a black groom-to-be, his best man, two white women, a goat and their fraught journey to the groom's nuptials.
The Winning Season (NY, LA): Sam Rockwell's drunk finds redemption as the coach of a girls basketball team.