Buzz Break: Russell Crowe's Mind is the Scene of the Crime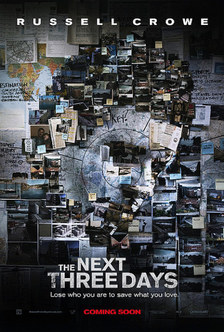 · Is the poster for The Next Three Days afraid of its star? Not exactly -- Russell Crowe's in there somewhere. Click through for a closer look and more Buzz Break.
· Olivia Thirlby has joined Karl Urban in Judge Dredd, where she'll play the psychic Judge Cassandra Anderson.
· "Literally, that's the question I get asked the most anywhere around the world -- if I'm making the sequel to Unbreakable," says M. Night Shyamalan, who's incorporating aspects of his planned Unbreakable sequel into the next film he's producing. "I love that movie. Unbreakable and The Village are my favorite two movies of mine."
· Workout king Tom Hardy will replace Gary Oldman in Tinker, Tailor, Soldier, Spy.
· Where might the Human Centipede franchise go from here? You don't want to know.