Postcard From Venice: Black Swan Could Stand to Go Even Blacker
The hardest thing about being an American critic covering a European festival is that almost anything you write is bound to smack of "I'm here, in a fantastic European city, seeing things that you can't." So here I am in Venice, one of the most beautiful cities in the world, looking at brand-new movies that many of you won't be able to see for weeks or months, or maybe ever.
But wouldn't you'd hate me more if I said, "Venice! What a dump!"? Because the reality is that there are few cities of such heartbreaking splendor, beginning, but not ending, with the folly and fragility of a whole city built on water. And the festival's strong competition lineup this year -- which includes entries not just from festival favorites like Sofia Coppola, Julian Schnabel and Kelly Reichardt, but also from veteran Monte Hellman, the director of the quietly amazing 1971 Two-Lane Blacktop -- sure doesn't hurt. I covered a portion of the Venice Film Festival in 2008, which was also my first time in Venice, a city I fell in love with immediately (how could I not have?), and I'm thrilled to have been invited back as a guest of the festival. I'll be appearing on a panel here early next week -- more on that later. But for now it's my duty to tell you about the wild, woolly -- though perhaps feathery is the better word -- ballet-o-licious extravaganza that is Darren Aronofky's Black Swan, which opened the festival last night.
I arrived on the Lido, the resort island on which the festival takes place, on Wednesday afternoon, too late to catch the early press screenings of Black Swan, a movie whose salacious and wackadoodle trailer has set even many a non-ballerina en pointe in anticipation. And in the evening, I awoke from my post-flight nap too late to have a gander at any of the Black Swan red-carpet action -- I wandered by the Palazzo del Cinema, where the festival's glitzier events are held, but it was all over (though I do have to say how astounded I am at the number of people who will take a picture of an unpopulated red carpet).
So getting my Black Swan fix meant catching an 8:30 press screening this morning. That's awfully early, but I won't complain after watching Natalie Portman in the movie's opening scene: As she arises from her slumber, her toe-joints crack audibly on the soundtrack, which is just a hint of what's to come. Portman's Nina, a sweet, aspiring New York ballet dancer, wants very badly to be cast as the lead in a new production of Swan Lake, but the director of the company, Vincent Cassel's ogre-satyr Thomas, doesn't think her heart is black enough to pull off the darker side of the part. Enter bad-gal ballerina Lily (Mila Kunis): She smokes! She gives Nina heavy-duty long-wearing feel-good drugs the night before a big rehearsal! She wears dark eye makeup! She also tempts Nina into a world of darkness by nuzzling at the forbidden girl parts between her legs. What on Earth could Lily, with her wicked, wicked ways, possibly want?
Wide-eyed Nina navigates the terrible-wonderful world of ballet, undermined at every turn by her fellow dancers, her passive-aggressive former-dancer mom (played by Barbara Hershey, whose face, unfortunately, appears to be immovable) and of course by Thomas, who's always lurking in the shadows with his pointy devil face, at one point exhorting Nina to -- I kid you not -- "Go home and touch yourself." (She obliges, finishing the job by humping her bunched-up comforter.) Tortured by all manner of evil forces, Nina the naif suffers, oh! how she suffers, and not just the usual bloody-toe ballerina stuff. Nina also indulges in all sorts of self-inflicted degradation, including habitually picking and scratching at her skin, in one scene peeling a nice long strip off her forefinger.
Aronofsky hasn't gone off his rocker here. In fact, he's very safely buckled into his rocker -- he knows exactly what he's doing, and so he methodically serves up a juicy melodrama about what it means to go nuts for your art. Black Swan is satisfying pulp in the way Aronofky's last picture, The Wrestler was. But The Wrestler -- which won the Golden Lion here two years ago -- had Mickey Rourke, who, with his battered face and lamb-soft heart, put some emotional muscle behind the story's rags-to-riches-to-rags conventionality.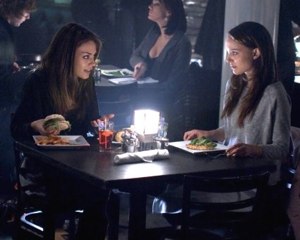 In Black Swan Portman gives the best female lead performance of 1955. She's both the suffering, doe-eyed good girl and the all-too-easily corruptible minx. (It's kind of too bad that she hasn't been written as a character who leaves her small hometown for the big city, with nothing but a cardboard suitcase and a pair of satin toe shoes slung over her shoulder.) With her sturdy but delicate bones and demi-regal carriage, Portman is a believable ballerina. But she can't nudge the movie beyond the camp confines that Aronofsky has so strictly drawn. Kunis, on the other hand, knows how to vamp it up without amping it up. She plays her character like a dark version of Mary Tyler Moore's Mary Richards, a girl who greets the world with her vagina dentata wide-open. She's gonna make it after all.
Black Swan is great fun to watch, especially the hallucinatory wig-wag that comes at the end. But there's also something deeply calculating about it. Aronofsky appears to take himself extremely seriously: The movie (shot by Matthew Libatique) is aggressively underlit -- I think that's supposed to make it art, though I did keep wondering if the culprit might be a burned-out projector bulb, or maybe incipient glaucoma. Aronofsky seems to want to sweep us up in a whirl of madness, and occasionally he succeeds. But too often he seems to be ticking items off a checklist, going through the motions of the dance rather than giving himself over to it. Black Swan is really just a high-toned version of Showgirls, a movie that's frequently derided as just being "bad," although I think Paul Verhoeven knew exactly what he was doing, and he was honest about his goals: He wanted to give us a glitzy, over-the-top show-biz fable, and he did.
Though Aronofsky seems willing to go over the top with this outsized, old-fashioned story of repression and mad ambition, the unfortunate truth is that he's not Douglas Sirk or Michael Powell -- he's not even Paul Verhoeven. And the dark, glittering heart of Black Swan isn't nearly black enough.
[Top photo: Andreas Rentz/Getty Images]