Hugh Jackman Will Make You Cry in Cancer Patient's Birthday Gift to His Wife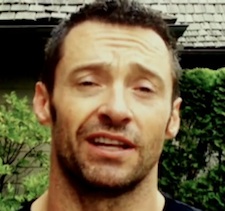 Grab the Kleenex. 35-year-old Australian Kristian Anderson was diagnosed with bowel cancer that spread to his liver in October of last year, and as a birthday gift to thank his native New Zealander wife Rachel for supporting him through chemotherapy, Kristian produced a video that includes Hugh Jackman, New Zealand Prime Minister John Key, lots of "Subterranean Homesick Blues"-like poster boards, a Train song called "Marry Me," and their two adorable children. Those with hearts of stone, feel free to click ahead. To the rest: You've been warned.
Rachel's Birthday Video from Kristian Anderson on Vimeo.
[via Jezebel]