You'll Never Guess Who Might Replace Steve Carell on The Office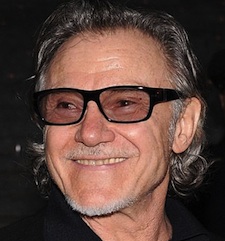 No, seriously: You won't. "He's probably the only guy who can do it, and he's doing TV now," said executive producer Paul Lieberstein of the Oscar nominated actor he hopes to add to the cast in the wake of Steve Carell's imminent departure. Just who is this mystery actor? Here's a hint: He's Harvey Keitel.
That's right, apparently Lieberstein was the one watching Life on Mars. As the man who plays Toby told E!:
"I haven't started any talks with his people, but Harvey would do a great job -- a very different energy -- and we don't want to bring in another Michael, having someone play a very similar character because we have such a high regard for Steve. [...] He's a real tough guy, but I saw him in Life on Mars and I saw a lot more comedy in his work, just little slivers of it, little things he would do that made me think he's capable of a lot more than what [he's done]."
Lieberstein said he envisions Keitel as an "old salesman" who was looking to retire until the stock market took a downturn. As such, he's forced out of retirement to run Dunder-Mifflin.
Great, good, fine. Clearly the producers of The Office have a vision for where they want the series to go, post-Carell -- previously floated Danny McBride would bring a similarly contentious vibe to the table -- but choosing Keitel seems a bit too jarring. Perhaps that's because it's fairly surprising to see Lieberstein say so much to the press without even contacting Keitel first, or maybe it's because imagining Keitel bringing his Life on Mars shtick (hammy, ham-fisted faux tough guy machinations that feel as fresh as Robert De Niro's in Analyze That) to The Office makes my blood run cold. Whatever the case, stay tuned...
· Steve Carell's Replacement on 'The Office' to Be...Harvey Keitel?! [E!]