REVIEW: Jason Bateman Comes Into His Own in The Switch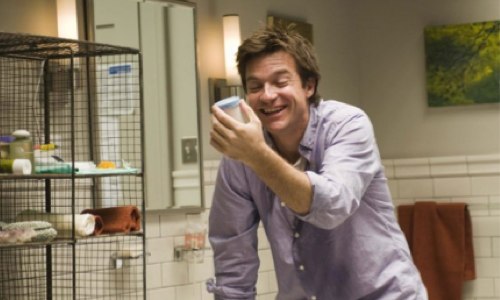 Despite the movie's ad campaign, The Switch isn't Jennifer Aniston's movie, and even she seems to know it. This picture belongs to Jason Bateman, who, after years of playing the second or third banana (and plenty of times being the best thing in a given film), finally gets to show off his considerable gifts as the co-lead in a mainstream comedy. To watch him in The Switch, standing at the stove making pancakes (a lice-proof plastic shower cap pulled over his hair -- don't ask), or bringing the grace of a Gene Kelly routine to a bit in which, hung over, he barfs into an office waste-can, is to see a particular kind of comic intuition at work. For Bateman, there's no distinction to be made between high and low comedy -- he brings neurotic elegance to everything he does.
Bateman plays an overanxious, complicated, sometimes downright annoying New Yorker whose best friend, the 40-ish Kassie (Aniston), has decided to have a baby on her own. Wally and Kassie dated briefly, an episode that happened so long ago it may as well have been part of a previous life. Now they're just extremely close: Kassie tolerates Wally's bizarre habits (like making strange, humming orgasmic sounds while he's enjoying his food); and he provides her with unconditional love and support. Though he's never been able to hang onto a girlfriend for very long, he's more devoted to her than some spouses would be.
So Wally finds himself mildly jealous when Kassie locates a superb male specimen sperm donor (played by a chiseled-from-plastic Patrick Wilson; his character is an adjunct professor at Columbia, and his specialty is "the feminist literary tradition"). One night, his judgment impaired by a potent pill-and-alcohol cocktail, Wally swaps his own sperm for that of the sensitive hunk. (A New York Magazine cover photo of Diane Sawyer proves to be the inspiration for the task at hand.) Then he blacks out and promptly forgets what happened. Kassie becomes pregnant, moves away, and returns to New York seven years later with an overanxious, complicated and sometimes very annoying little boy in tow.
The Switch is ostensibly aimed at women, who are historically sensitive to the loud tick-tocking of the biological clock. But the sneaky surprise of movie -- which was directed by Josh Gordon and Will Speck (Blades of Glory) and adapted, by Allan Loeb, from a story by Jeffrey Eugenides -- is that it focuses more intently on the guy's point of view: What happens when a man who never set out to become a father realizes, six years after the fact, that he's inadvertently helped create a mini-me? That's got to mess with a guy's head.
Pages: 1 2