Cory Monteith on His 'Idiot' Glee Character, His Two Left Feet and What's Ahead For Finn Hudson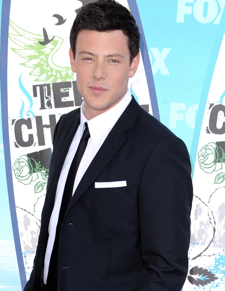 Like the character he portrays on Fox's Emmy-nominated gem Glee, Cory Monteith is a paradox. Both awkward and well-rehearsed, the Canadian-born actor had famously never sung in front of a live audience before his audition for Ryan Murphy's musical series. He never learned how to throw a football before playing star quarterback Finn Hudson. And despite having zero experience dancing, he landed a role on the only scripted series that demands its stars learn new choreography each week.
That being said, Monteith is the first to admit his luck in scoring a role in the hottest new ensemble comedy-drama. As he was feeling under the weather after a long day of rehearsals, Movieline kept a safe distance from the actor as he discussed his first impression of Finn and his admittedly average dancing skills.
"When I first saw the script I thought [Finn] was an idiot," Monteith confessed to a group of reporters during a recent TCA event. "That's not a good place to start as an actor. You don't want to judge your character like that. I think his progression has been going from this dumb -- well, he's not dumb. He's innocent. He truly comes from a place of childlike innocence where he doesn't know that the moon and New York City are more than 100 miles apart, for example. He really doesn't know. And he always speaks before he thinks. That's a pretty common trait of Finn's."
Another trademark characteristic of Finn's is clumsiness, which is not entirely an act. In fact, Harry Shum Jr. revealed to Movieline that Monteith had the most room to improve last season (which he did) when it came to dancing, a statement that the actor does not refute.
"I absolutely agree with that," laughed Monteith. "I have two left feet. I have gotten a little better [this season], but it's still not something I am fluid at."
But viewers never counted on Finn Hudson for his stellar dance moves. They appreciated his sweetness and childlike wonder (even if it sometimes verges on maddening), a quality that Monteith made clear would not be going away anytime soon -- even if the actor had a hard time describing what that lovable quality is exactly.
"Oh, there are some classic Finn Hudson moments coming up. We were shooting some this morning actually. More of the adorable, the stupidity -- well, maybe stupidity is a bad word. Finn's adorable naïveté will be revisited."