Which Jersey Shore Cast Members Could Actually Handle a Spinoff?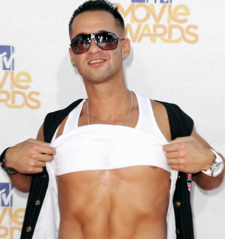 The second season of Jersey Shore is addictive, yes, but with its staged party and work environments, the MTV series is proving to be a set-up that can't last forever. It's time to plan for the future: Which of these eight gyrating guidos and guidettes could handle a spinoff?
Let's rank them worst to first:
8. Angelina: If removed from the octet and given her own series, we may see less of the caterwauling Angelina's bilious side and more of her... thoughtful, tolerable side? No, wait. Unbearable is unbearable. Moving on.
Spin-Off Name: HULLO! WHY ARE YOU WATCHING THIS?
7. Sammi: The show's only Jersey native is also the least Jersey Shore-appropriate. She's not an avid partier and she's a hater, but in the most forgettable way. If she's ever going to land a spinoff, she'll need volatile Ronnie's assistance.
Spin-Off Name: #1 Sweetheart (as opposed to #1 Single with Lisa Loeb -- though just as ill-advised).
6. Vinny: The most human member of the cast has spinoff potential: The "mama's boy" storyline may seem tired at this point, but there are plots and problems to mine in Mr. Guadagnino's enormous extended household.
Spin-Off Name: Eff the Olive Garden: Real Italian with the Guadagninos
5. Ronnie: Ronnie, who was just arrested for a second time, is boisterous in all the best ways: Whether he's performing a spastic boogaloo on the dancefloor or pounding hater face with his umber fists, he's got the kind of spontaneity we need in a leading man. Unfortunately, he is not prone to catchphrase coinage.
Spin-Off Name: Da Doo Ron Ron
4. JWOWW: JWOWW is a maniac. With her consistent spewing of adages like "Sleep with one eye open," she's ready for an Oxygen series about beating up hippos in taverns across the country.
Spin-Off Name: Gorilla Warfare
3. Snooki
The knee-high naughty girl has suggested her own spinoff on several TV shows, an I Love New York-style dating series (called Snookin' for Love, of course), but she's become too self-aware to become the breakout solo icon.
Spin-Off Name: Juiceheads Revisited
2. The Situation: The Situation obviously has it all: an outrageous moniker, a penchant for theatrics, adamantium abdominals, and comic timing. If (and I mean "when") he wins his own series, he should go for the My Life on the D-List treatment and spill everything about his day-to-day life.
Spin-Off Name: Situation: Overload
1. DJ Pauly D: The cast member who changed the least from season one to two is Pauly D, the rambunctiously sincere, frozen-haired kid who mixes up our affection on the ones and twos. He's the most bankable spinoff candidate thanks to his guilelessness and inability to have a bad night out.
Spin-Off Name: Hey, Signore DJ