Weekend Forecast: Can Julia Roberts Catch Up With Expendables For Box-Office Crown?
Happy Friday the 13th! No, really: Even the most superstitious among us can get lucky at the movies this weekend, as Hollywood comes at us from virtually all angles and the best film of the year to date begins its gradual American art-house invasion. Everything seems to be going about as well as you can expect from this date, at least so far; read on for the forecast of how these might make rain at the box office.
NATIONAL OUTLOOK
· The Expendables: Lionsgate's high-pressure system has Sylvester Stallone and Co. raising temperatures pretty much everywhere; you can't throw a rock without smacking a billboard or poster packed with those rippled mercenary physiques and scowling mugs, all enticing the inner 12-year-old boy to come sail away on testosterone seas and kill the holy hell out of South American villains. This is the way it was meant to be back when all we could see for miles was The A-Team. Now we've arrived at our big, explode-y destination, the nation is ready to buy, buy, buy. And probably hate ourselves in the morning, but that's life. FORECAST: $32.5 million (See Movieline's review here.)
· Eat Pray Love: It's been interesting to watch this front build as well over the last year, with Julia Roberts at the head of the much-anticipated Elizabeth Gilbert adaptation and half of Hollywood's reigning hunk bracket that isn't in The Expendables bulking up the radar. I like this to do a lot better than most observers are predicting -- certainly better than low 20s, where lesser Roberts films without the brand pedigree or intriguing counterprogramming placement have opened over the years. The thing is, it's not strictly a guys vs. girls weekend; EPL and Expendables should break about even in terms of crossover, with EPL gaining a slight edge in cities, where this isn't exactly the date-movie anathema it looks like at a glance. Plus it'll have legs, which is the better virtue this month anyway. FORECAST: $28.8 million (See Movieline's review here.)
· Scott Pilgrim vs. the World: Another wild card! I'm with Christopher in thinking this will actually overachieve, though by any standards a $20 million weekend would be a significant success for Universal. Expect $5 million alone from kids buying this ticket and sneaking into The Expendables (kidding, but only kind of); add another $10 million for general fanboy interest in the comics adaptation and Edgar Wright. The rest really is gravy, but hell, people do like their gravy. FORECAST: $18.7 million (See Movieline's review here.)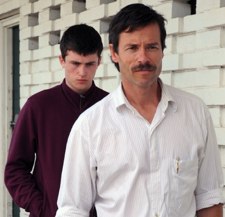 PRIME DESTINATION
· Animal Kingdom: You know the drill on this one. I'm not here to cheerlead for anyone, and I'm not here to hyperbolize. It's really pretty simple: David Michod's feature debut about an unraveling Melbourne crime family is at worst a flawed, self-serious but engaging thriller. At best, it's a sleek masterpiece about the spectra of loyalty and power, and what happens when you throw guns, money, drugs and two of recent cinema's more unsettling criminal wack jobs into the equation. And make them climb to the top of the same family tree. In the end it's simply a great, complex film for adults at a time when few to none are anywhere to be found. That it reveals even more of itself upon multiple viewings just feels like a privilege. (See Movieline's review here.)
REGIONAL OUTLOOK
· I Can See You (LA): Psychological horror trip about a group of vexed professionals who retreat to the woods and... well, it's not as obvious as you think. Or at least not obvious enough to spoil.
· La Soga (NYC): Dominican-written, American-directed, slum-dwelling revenge drama starring Manny Perez as the titular secret-police assassin. (Movieline's review forthcoming today.)
· Lebanon (expanding to LA): Claustrophobic, generally overrated stunt drama told entirely from the perspective of Israeli soldiers inside a tank during the 1982 invasion of Lebanon.
· Mugabe and the White African (expanding to LA): Court dates, beatings and torture: Not your average documentary about the effect of the Zimbabwean dictator's land policy on a white farmer.
· Mundo Alas (expanding to LA): Argentine folk singer León Gieco's documentary about a tour he led with disabled musicians.
· Neshoba: The Price of Freedom (NYC): Haunting, infuriating and somehow darkly comic (if annoyingly rudimentary) glimpse into the long shadow of the murders of civil rights workers James Chaney, Andrew Goodman, and Michael Schwerner in 1964.
· Peepli Live (NYC/LA): Semi-satire about an epidemic of suicides in India, and the media culture that feeds on them. (See Movieline's review here.)
· The People I've Slept With (NYC): A fun indie alternative to Eat, Pray, Love underscoring the virtues of self-discovery through abject promiscuity. And the heroine doesn't even have to go India!
· Salt of this Sea (NYC): Inarguably the best Palestinean bank-heist road-trip activist film ever made.
· Tales From Earthsea (LA): Goro "Son of Hayao" Miyazaki's animated adaptation of the Ursula K. LeGuin novel about power struggles in the kingdom of... well, you know.
· They Came to Play (NYC): Documentary chronicling the Van Cliburg Foundation's annual competition of middle-aged pianists.
Call your shots... Anything you're looking forward to?