'Jacki Weaver Superstar': One Actress's 48-Year Journey to the Role of a Lifetime (and Maybe an Oscar)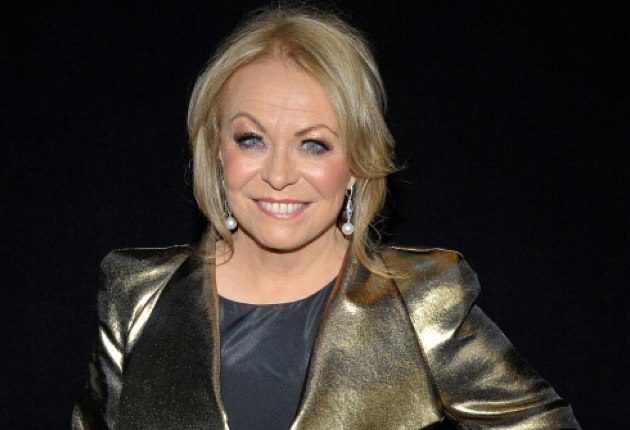 "Do you know the Myers-Briggs Test?"
It's Tuesday morning in Manhattan, and Jacki Weaver awaits an answer. The actress doesn't have all day. She's on a 36-hour stopover here promoting her new film Animal Kingdom -- Weaver's first theatrical feature in 13 years, and quite possibly the movie that will earn the stage/screen/television veteran of nearly a half-century an Academy Award nomination for Best Supporting Actress, if not the trophy itself. Which is where the Myers-Briggs Test comes in. I ask her to explain.
"I've got a friend who's a psychologist who does the Myers-Briggs Test," Weaver says. "It's an American test, and it was invented to put people into 16 different categories -- just to see how people fit in their working lives. This friend of mine said he was surprised to find that -- I don't think it's quite a majority -- a bigger percentage of actors are introverts than extroverts. It was a big surprise to him. Now, I know me, and I'll do anything if I'm playing a character. Or anything that's true to the character, anyway. But in real life I'm a little more withdrawn."
And this is where the past comes in -- the past and all its pitfalls and peaks, its contradictions and controversies informing the run last January, when Kingdom won the World Dramatic competition at Sundance. A household name in her native Australia, Weaver has also been one of her culture's most scandalous public figures for decades: The shy teen who made headlines for dating her first co-star. An award-winning film actress by age 24. A depression-prone, five-times-married serial wife whose only son was announced in the tabloids as her "love baby." The muse of one of Australia's greatest theater directors -- a gay man with whom she nevertheless carried on her most famous and significant affair. One of the world's hardest-working, most in-demand stage actresses to never appear on Broadway, a résumé gap she attributes in part to "lack of courage." The candid author of an autobiography awash in cheekiness like: "'Promiscuous' implies that I'm not choosy. In fact I'm very choosy. I just happen to have had a lot of choices."
The public Weaver and the private Weaver today collide in the storm around Kingdom. Writer-director David Michôd's feature debut presents the 63-year-old as Janine "Smurf" Cody, the diminutive, cheerful blonde matriarch of a Melbourne crime family riven by neurosis and greed. (Having a mother who lovingly, lingeringly kisses her bandit sons square on the lips is a problem as well.) The arrival of her teenage grandson J (James Frecheville) after his mother's death introduces a dimension of paranoia to the proceedings, at an advanced point of which Smurf must assert her own disarming brand of bloodthirstiness. She's a woman as at ease cooking with her neighbors as she is ordering hits and sabotaging criminal trials, as quick to forget J's name as she is to shield him from his monstrous uncle Pope (Ben Mendelsohn), as eager to sacrifice family as she is to salvage it -- her way. The only way. Advancing her agenda one scene, one motivation at a time, Smurf is as vile a parent as any since... well, Mary last year in Precious. And we all know how that ended up.
Not to make this all about prizes, either. Weaver certainly doesn't, and Smurf's searing amorality relies far less on uglified, Oscar-ready upstaging than on the modest calculations of a born sociopath. But the question does tend to come up when the putative Role of a Lifetime -- the one Michod wrote and refined specifically for Weaver; the one distributor Sony Pictures Classics has every intention of rallying around this awards season -- actually becomes the Role of a Lifetime: Are you ready for this? Moreover, after all this time and all this success, do you want it?
"I've always said about awards that they're meaningless until you win one, and then they're best thing in the world," Weaver says. "The other thing about awards is that they engender respect from areas where it might never have come from without it. It's also nice to be vindicated that you weren't barking up the wrong tree for 48 years -- that what you were doing was probably the right choice of things to do. That's what I think of awards I've got now. And the thing about being an actor is that every new job is a new challenge. Sometimes you'll have a shot, and it doesn't work. Sometimes it'll work better than you expected. But..."
She pauses. An unmistakable smile retakes an unmistakable face. "I love getting presents," she says. "And awards. I'd do whatever they told me to do."
An hour or so after Animal Kingdom's world premiere at the Egyptian Theater in Park City, Jacki Weaver stood at the edge of a packed lounge across Main Street. The line for the film's party stretched out the door, where the vibe of triumph battled the snow for airspace over Utah.
Inside, meanwhile, between introductions and congratulations, it seemed all anyone could ask was why Weaver's character was known as "Smurf."
She didn't know then, and her answer hasn't changed in seven months. "I hate the name," Weaver says with a laugh that fades to vague disgust. "I thought it was because I was little and cute and funny-looking. Aren't they those little goblins? Those little blue men?" She shrugs. "But it's probably right for this character."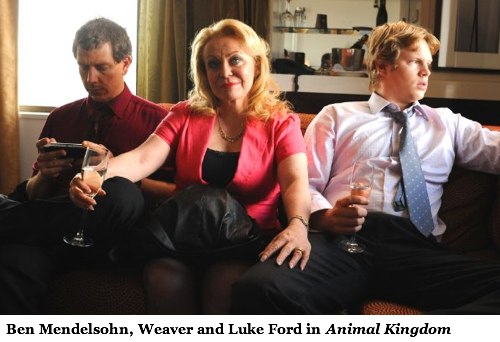 Asked the same question, Michôd grins. "I just wanted her to be small and delightful!" he explains. "And that was why I wanted Jacki specifically for that role. I knew I didn't want the character to be some kind of grizzled, gruff, villainous matriarch. I wanted her to be disarmingly breezy and disingenuously naïve. And Jacki is just so delightful. I offered her that part like six years ago, back when I had no idea how to get the movie made. I just wanted her to be involved, and I just wanted her to know that I wanted her to be involved. Everything that woman is capable of, I wanted it to be packaged in the delight of Jacki Weaver."
It's an exquisite delight -- and a complex one. Weaver was born to a self-described middle-class family in Hurstville, a suburb south of Sydney. Her father worked as a lawyer while her English émigré mother stayed at home to raise Jacki and her brother. Jacki's parents enrolled her in elocution lessons by age 6, subsequently bringing her up on imported American television like Leave it to Beaver and The Mickey Mouse Club. Despite her bashfulness, the girl developed a yearning to act, often impersonating Europeans in her daily interactions in and around the city. At age 15, trotting into an audition for a Christmas production of Cinderella in her shapeless, ordinary Hornsby Girls High School dress, young Jacki nabbed her first role in as many tries.
She also nabbed her co-star Bryan Davies, a teen heartthrob of the era who played Prince Charming to Weaver's besotted, beleaguered princess. Even in her mid-teens, the rookie actress knew to own the moment -- an experience that would serve her well 40 years later in her autobiography, Much Love, Jac. Notoriety came naturally.
"There were a few instances where I set the record straight about myths about me," she says. "Sometimes the true thing was more shocking than the myth." Asked to cite an example, Weaver hesitates. "All I'm saying is that I wasn't shy about admitting scandalous things that had happened. I was very protective of naming people; I gave a lot of people false names. One ex rang me and said, 'I really loved what you wrote about me, but I hated the name you chose.' At least I didn't call him Smurf."
With many of her exes, however, she didn't have to. Weaver's affairs were legendary: At age 18 she embarked on her first marriage, to Australian Broadcasting Corporation TV director David Price. He had proposed on their first date; Weaver accepted, attributing her haste to their great sex. ("I believe in sex on a first date," she wrote in her memoir. "Otherwise, how do you know if a second date is worth the effort?") By age 22, with her stage and screen profile rising, she'd bear her son Dylan to a paramour 30 years her senior -- while still married to Price. The story was a national scandal, prompting the infamous tabloid headline, "JACKI'S LOVE BABY."
It got weirder still. Less than a month after her son's birth, Jacki met Richard Wherrett, the celebrated Australian stage director and founder of the Sydney Theater Company. He was also a confirmed gay man, but that didn't stop him and Weaver from dashing off to London together, initiating a relationship that would span 30 years. She told an ABC interviewer in 2003: "I knew Richard was homosexual from the very beginning, but it didn't affect my falling in love with him. It didn't affect any aspect of our relationship. [...] We would discuss it and he would say, 'Don't you see that there's something about you, too, that's needy that you fall in love with a man who is homosexual?' My guilt about taking Dylan from his father was enormous, and I've never gotten over it to this day. It's one of my greatest regrets. But, yes, it was a grand passion with Richard Wherrett. I was very much in love with him. And he was with me."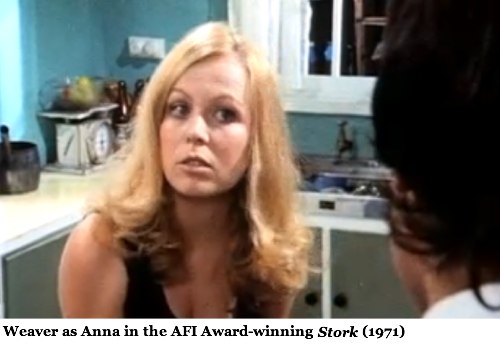 Yet this time the scale of Weaver's grand passion coincided with equally grand work like her 1971 milestone Stork, for which the Australian Film Institute gave her the year's Best Actress prize. Weaver played Anna, a young woman pregnant by an undetermined one of four male housemates in 1960s Melbourne -- including the deluded, ne'er-do-well title character (played by Bruce Spence, who'd also win AFI acting honors) -- and who sets off an outlandish Y-chromosome power struggle by deciding to keep the baby. Director Tim Burstall cast Weaver in each of his next two films as well: the taboo-breaking sex farce Alvin Purple (which in 1973 became the biggest hit in Australian film history to date); and the 1974 drama Petersen, which further tested the boundaries of sex and nudity in mainstream Aussie cinema -- and of which Stanley Kubrick himself was a vocal fan.
Weaver's success made it relatively easy to return home from her new, regular journeys to New York, where she would laze at the shabby Algonquin Hotel and often take in as many as 10 Broadway shows a week -- but never go out for a single one herself in 21 years. "It was probably lack of courage to attempt it," she says today. "But I also had so much work at home. I wasn't dissatisfied with what I had at home. In this new generation, all the young actors go to Hollywood and try to get in a pilot. It's a different ballgame now. It just didn't really occur to us. It wasn't something I regretted or was bitter about; my life has always been full of challenges and good work. And I was getting to play those roles on stage that I probably wouldn't have got living here."
Not to mention the depth back home of her relationship to Wherrett, whose occasional marriage proposals Weaver would decline yet who would conceive a child with the actress. Both were shattered soon after when Weaver miscarried, an event that Weaver says indirectly contributed to the couple's slow dissolution. By 1975, when Weaver appeared in Peter Weir's international hit Picnic at Hanging Rock and the screen adaptation of playwright David Williamson's influential drama The Removalists, she had already taken up with sound recordist (and eventual second husband) Max Rensser.
A year later she won her second AFI award for the Depression-era drama Caddie, this time sharing Best Supporting Actress hardware with her co-star Melissa Jaffer. But Weaver was tireless, appearing constantly in every medium, even getting fired from a Heinz 57 commercial for laughing too hard during the shoot. That's what happens, she said, when a 4'9" woman among an ensemble playing vegetable ingredients is cast as the stalk of asparagus.
Derryn Hinch only needed to see 19 performances of the the Neil Simon musical They're Playing Our Song to know that its leading lady, Jacki Weaver, was the one for him.
The journalist, broadcaster and general gadabout had dated Weaver for a stretch, but by 1982, with him living in Melbourne and Weaver living in Sydney, she was engaged to another man. Infatuated as usual and determined not to let her get away, Hinch resolved the matter the way any reasonable person would: He purchased a full-page ad in the Adelaide Advertiser proposing to marry her. "JACKI WEAVER SUPERSTAR," it blared, followed by Hinch's ungodly attendance record and "unabashed endorsement" of They're Playing Our Song: "I love it. Of course, I am biased. I love Jacki Weaver." The actress discovered it one night on the town with him; she was shocked, more than a little embarrassed -- and completely won over. Despite apprehensions from her friends and peers in the theater -- particularly Wherrett, who remained close to Weaver and was not shy about his distaste for the caddish media rogue -- Hinch and Weaver were married a month later.
A longtime foreign correspondent for Australia's Fairfax newspaper conglomerate who sneaked into Martin Luther King Jr.'s funeral and was in the NASA control room when the fateful "Houston, we have a problem" call came from Apollo 13, Hinch had been a bureau chief in New York for more than a decade prior to marrying Weaver. Their shared love of the city -- especially its culture and nightlife ("His relationship was very deep with New York," she told me, "though he knew more bars than theaters") -- made her regular visits all the richer.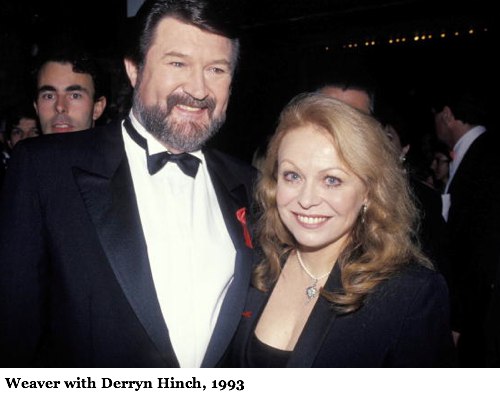 During one of these trips in 1985, not long after Weaver had concluded a long, acclaimed run as Billie Dawn in Garson Kanin's classic political comedy Born Yesterday, she and Hinch had lunch at the Russian Tea Room. Looking across the restaurant at one point during her meal, Weaver spotted Kanin and his wife Ruth Gordon sauntering toward their regular table. "She was in a picture hat," Weaver recalls. "She was tiny -- my size. She was in a white dress. He looked like a Southern gentleman in a white suit, a Panama hat and with a cane. They came in and sat down and I told my husband... I mean, I was hyperventilating: 'There's Garson Kanin.'"
HInch scrutinized the pair. "You must speak to him," he said.
"I'm too shy!" Weaver replied.
"Write him a little note."
It was a sound compromise. Hinch, the prepared reporter, lent Weaver a pen and paper on which she scribbled the words: Dear Mr. Kanin: I love you, I love Ruth Gordon, and I've just done 200 performances of Born Yesterday at the Sydney Opera House. I'd love to say hello to you, if you don't mind.'"
She folded the note and handed it to Hinch, who waved a waiter over. "Can you give this to Mr. Kanin?"
"We don't do that, sir." Hinch added a $50 tip. "Certainly, sir."
The transaction was made. Weaver couldn't watch. Hinch could, and did. "Now, I don't want you to scream out," he said, "but Garson Kanin's walking toward the table.'"
Twenty-five years later, Weaver admits she did indeed scream out. "He came up to me and he said, 'I heard about your performance, and I can see you playing the role,'" she remembered. "He hugged and kissed me, and I was crying. '200 performances, you say?' 'Yeah, actually, when you count the two seasons together, it was something more like 300.' He said, 'That's very impressive.'"
From across the restaurant, Ruth Gordon waved at Weaver in her adorable, inimitable Ruth Gordon fashion. Kanin went back to the table, where he and his wife undertook an animated conversation of their own.
"My husband said, 'What do you think they're talking about?'" Weaver told me. "I said, 'I don't know.' [Kanin] actually said: '300 performances! Those bastards told me it was only 100!'"
Kanin would have to take it up with the producers. Weaver and Hinch had serious issues of their own at the time, none more so than Hinch's uncovering of a notorious abusive priest's continued dealings with children. The disclosure violated Australian law and landed Hinch in jail for 12 days on a contempt-of-court conviction. Weaver faced death threats throughout the ordeal, occasionally performing and leaving shows with police escorts at the ready. The stress exacerbated her natural depression -- the downswings and slumps from which she relied on Hinch so regularly to extract her. The pair even split up at one point in this frame, eventually remarrying only to divorce again for good in 1998. Weaver's simple explanation: She ran away with another man.
"I was an adventurer, and I got married a few times," she tells me. "I kept trying to find a relationship as good as my parents."
On the one hand, it's only glancingly close to the rambling back story Weaver ascribes to Smurf -- one in which her four children are likely the products of as many fathers, the absence of whom creates more emotional vacuums than conventional crime-flick power struggles. The latter do exist, of course, and Smurf is among their players. On the other hand, when she breaks down following the latest casualty in an ongoing series of cop showdowns, sobbing and sputtering, "I'm having a hard time finding my positive side," that reflects a disturbingly deep, familiar anguish. Even more familiar is her straightening seconds later in the presence of Det. Leckie (Guy Pearce), staring dead-eyed through her streaked black make-up. "I hope you find the killers." He looks away, muttering, "So do I." Whether in denial, mendacity or stoicism, her strength is profound.
Again, it wasn't always this way for Weaver. Alcoholism overtook her in the early '90s: She did an entire performance of Shadowlands drunk not long after her mother passed away in 1991. Her father died a few years later, and her son Dylan was diagnosed with a benign tumor that required multiple operations. Weaver dug out with more stage work and, not surprisingly, more stage success, including her final collaboration with Wherrett in 1997 -- the same year she also made her last film before the 13-year hiatus that would precede Animal Kingdom. Soon, more loss: Diagnosed with HIV in the mid-1980s, Wherrett died in 2001 from AIDS-related complications from hepatitis C. Weaver lived with and nursed him the last year of his life; he offered one last futile marriage proposal mere days before he died.
Lapsing back into drinking and depression following Wherrett's death, Weaver slowly rebounded with more work and a relationship with the South African actor -- and eventual fifth husband -- Sean Taylor, to whom she remains married. Having lived enough lives to fill three memoirs, Weaver was approached by a publisher to write just one, supplying what she calls "a huge advance" that she'd spent before she'd even written a full paragraph.
"My brother the lawyer said, 'Well, you know what you have to do now: Either give back the money or write it,'" Weaver recalls. "And I'd spent the money, so I had to write it! And like I said in the book, it was like getting plasma out of granite -- blood out of a stone. I knuckled down. Because I'm not that interested in talking about myself. I'd much rather listen to other people's story. I'm a listener, not a talker."
David Michôd wasn't just another suitor. The young actor-turned-filmmaker was halfway through the decade-long development slog of his first feature, Animal Kingdom, when he first coaxed Weaver back to the big screen. Here was an actress headlining a run of Steel Magnolias, playing what she calls, for ease of reference, "the Sally Field part" until the producers suggested she switch to "the Dolly Parton role." And there was Smurf Cody, hand-tailored just for her: a kind of Lady Macbeth by way of Golden Girls, gregarious and nurturing until an encroachment on her sun-baked suburban idyll requires severe, immediate response.
Surrounded by her offspring -- killers, drug dealers, oafs and man-children, in some cases bundled up in one -- she at first has only one weapon to exert her influence: a kiss. Not just a peck on the cheek or forehead, but a lingering buss on the lips, their heads in her hands, paralyzed like prey, the objects of some malignant infusion.
"I have to admit they were a directorial choice," Weaver says. "They didn't occur to me as an actor, but once they were given to me, I thought, 'That is so right.' It's a small thing but it rings such a bell. It doesn't mean there's anything incestuous there, but it's so inappropriate and it says so much about her power over these boys. I mean, they're all sociopaths. I hate labeling people, but let's face it: They are people without consciences who do bad things. We are all capable of doing bad things, but most of us -- like 98 percent -- know not to. And I think the kisses were a really clever touch."
Of course, failing that tactic, there's real force -- plots and schemes and machinations that send things moving in all the wrong ways for the Cody clan. Before long, cracks on the set began to mirror cracks in the family, spidering off-camera in barely controlled rages. Surviving and adapting became a tangible dynamic as Kingdom lumbered through production, with no less a stabilizing presence than Jacki Weaver appearing when she could to make gentlemen of her boys.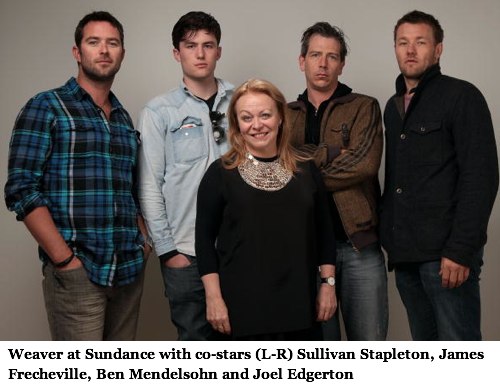 The night before our conversation in New York, as she discussed the film with Michôd, Frecheville and an audience downtown, Weaver smiled her smile and shook her head. "It was a harmonious shoot," she said. "It was not unpleasant at all."
Michôd winced. "Are you kidding?"
"Some of the days we had to shoot some of the conflict, there was a bit of tension on set. But," Weaver took a breath and shook her head, lowering her voice almost to a whisper -- that persuasive decibel most often adapted to threats and confessions. "That's nothing."
"Is that nothing?" Michôd asked, jarring us back to reality. "The near punch-outs?"
"Yeah, well..."
"There were certain days I didn't know if some actors were going to show up the next day," Michôd continued.
Weaver goes back to the near-whisper: "Oh, I knew they would. There were a couple of bad nights where a couple of the boys got really angry with each other. Listen: It wasn't Christian Bale."
To hear the rather intense, all-business Ben Mendelsohn tell it, the veteran actress was the only one with whom he experienced no discord on the set. Part of it was by historic fluke -- they'd been peers and friends for 20 years prior to working together as Animal Kingdom's super-criminal mother and son pair. Yet there is the creative design to consider as well. Pope and Smurf are a symbiotic unit, not without their quarrels or power shifts. "You should start taking your pills again," she tells her brooding son at one particularly low point, a gesture of concern as tender as it is treacherous. But it's the tenderness that you believe first -- that she makes you believe, that is perhaps the only thing keeping Pope from setting fire to the entire city of Melbourne.
"Instant," Mendelsohn replies when asked to describe their rapport, snapping his fingers with glass-shattering insistence. "Instant. We were a unit. And basically I would look after Jacki, whatever happened. Not enough attention on set? Whatever. 'Get her some water.' Do this, do that. 'Make sure a seat's there for her.' You know what I mean? Give her a cuddle. Tell someone to shut the fuck up. Whatever needed to happen. Because when Jacki's there, everything just naturally falls into place."
Falls into place. Things have been falling into place for Weaver for 48 years now -- sometimes when she wasn't looking, often when she was, periodically in the dust hovering in her wake around Australia, making reputations, breaking hearts, building a legacy. It's one of life's more bittersweet ironies that no better or more frustrating validation exists than the past, even as the future burns with promise. But there is one more validation worth pursuing, even coveting. For the first time, Animal Kingdom gives her the opportunity to do so, however intently she settles on its pursuit. In any case the achievement is hers, and it's time.
"I was a bit overwhelmed, especially when [David] said he couldn't think of anyone else to do it," says the girl from Hurstville. "I could have thought of a few -- but I wasn't going to tell him." Sometimes it pays to be the introvert.
[Animal Kingdom photos: Sony Pictures Classics; Stork still: Australian National Film and Sound Archive; all others: Getty Images]