Web Magazine Accused of Forging Stephen Colbert Interview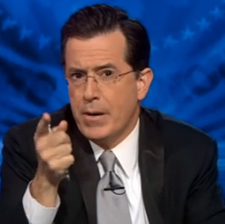 It is the kind of story that Stephen Colbert would likely lampoon on his Comedy Central talk show: Online literary magazine reaches out for an interview with a political figure, does not hear back from said political figure, and creates a nine-page interview transcript of an interview with the political figure, hoping that he never finds out. Only this time, the story pits Stephen Colbert as the victim and Wag's Revue as the accused literary party. Click through for Revue's defense.
After a source close close to the magazine tipped PopEater off that the interview might be a phony, Wag's Revue -- which was founded last year -- issued the following comment:
"The interview, like all works of literature in the magazine, stands on its own and should require no external explanation or defense. And, like all writing, its 'legitimacy' is formed in a contract with the reader. If your concerns are over 'legitimate' authorship, we think those issues are addressed very explicitly in the text of the interview and throughout the rest of the issue."
Pressed for specifics as to whether Colbert actually spoke to Wag's Revue, the magazine's final word was: "Again, we believe the text speaks for itself on that matter." The introductory paragraph to the Q&A states that the Comedy Central personality "spoke with the Wag's Revue editors at an American restaurant near his offices in New York."
To substantiate his/her claim, PopEater's finger-pointing source said, "Every time [Wag's Revue tries] to get someone really famous, they always get turned down. One of the editors tried to sneak backstage one time to challenge the RZA to a game of chess, and almost got his a** kicked. So I was reading the Colbert interview was like, 'How the f**k did they pull this off? Something's fishy here.'"
Something tells me that this story would fit neatly into a future "Tip of the Hat/Wag of the Finger" segment on the Colbert Report -- unless, of course, Colbert's in on the whole thing already. Stay tuned...
· Source: Web Magazine Faked Stephen Colbert Interview [Popeater]