On DVD: Salute Roger Corman's Glorious Blockbuster-Ripoff Phase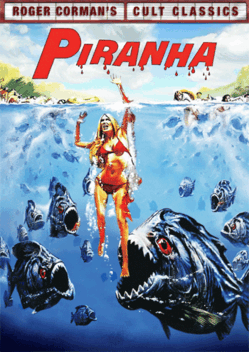 Was I hallucinating last year, or did Roger Corman receive a honorary lifetime-achievement Oscar? An unrivaled one-man schlock factory, Corman produced and/or directed hundreds of films, and if they turned out well it was mostly by accident or by virtue of his talent at hiring film-school grads to knock off pulp assignments on ridiculously stingy budgets. In fact, for several generations now Corman's penny-crazed movie mill has been more famous for producing auteurs than terrific films.
You could make a case that the American New Wave of the '60s and '70s might not have happened at all if it wasn't for the man's cheapjack exploitation of newbies Francis Ford Coppola, Martin Scorsese, Peter Bogdanovich, Monte Hellman, Jonathan Demme, Jack Nicholson, John Sayles, and so on. Today's young graduates might well pine for a system like Corman's, a fast, cheap, seat-of-your-skivvies initiation into the secret ceremony of commercial film.
But few, I'm sure, notice that Corman is still cranking, still selling -- to video and SyFy -- and still giving beginners their first breaks on lousy exploitation pictures. (The ambitions for young directors have changed, of course -- Sharktopus didn't go to Sundance.) Corman's career has been so long and prolific, in fact, that you could say it had phases: his Atomic Monster phase, his Poe phase, his I Can Make Big-Budgeted Films Too phase, his current Crazy Damn Title phase, etc.
The Corman phase being feted on DVD this week by Shout! Factory could be called the Blockbuster Ripoff phase, coming after Jaws and Star Wars changed the face of the marketplace. (Officially, the distributor has dubbed the overall set "Roger Corman's Cult Classics.") Of these, Humanoids from the Deep (1980) is easily the most notorious, ripping off Friday the 13th in form but using ravenous, toothy Alien-like fish-men (product of a runaway experiment, of course) who don't want to kill or eat people so much as screw them. As in, rape teenage girls. As in, throw them down in the mud, rip off their bikinis, and get busy. Outrageously appalling, this slimy cudgel of a movie was directed by a woman, Barbara Peeters, who's here to make sure no one can say a woman may not be just as tasteless and inept as any exploitation-movie-directing guy. Maybe even more so.
On one post-apocalyptic disc, the David Carradine-starring Deathsport _(1978) retreads _Death Race 2000 but with motorcycles, and Battle Truck (1982), originally and locally titled Warlords of the 21st Century, isn't even a Corman film per se, but a New Zealand ripoff of The Road Warrior that Corman bought up. Generally, this is Corman's kind of future -- made up mostly of garbage people might pay him to cart off. (In the latter film, directed by Harley Cokeliss, although Corman's credits unfortunately leave the 'e' out of his last name, the nuclear wasteland denizens are indistinguishable from Minnesotans on a hunting trip.)
Which leaves Joe Dante's relatively sublime Piranha (1978), a movie that cried out to be made in the post-Jaws fervor, but was luckily scripted with a pungent tang by Sayles and directed with a visual zip and eloquence that's exactly what you couldn't figure out was missing from the other movies. That, and acting, from Barbara Steele making a bizarro appearance as an evil bureaucrat to Keenan Wynn in full-on old codger mode (until his feet get chewed off by what look like hand-sized wood chippers) to Kevin McCarthy, straight man Bradford Dillman and nubile star Heather Menzies, a Sound of Music alum whose perky cuteness bought her little more than episodic TV work, the lead in Sssssss, and a nude layout in Playboy. All the same, keep an eye on her here -- she could out-act Kristen Stewart with one '70s hair-flip tied behind her back.