3 Moments From The Original Total Recall That the Remake Must Include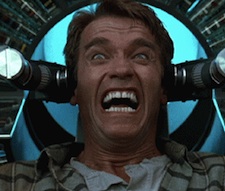 With the news that Len Wiseman is in final negotiations to direct a remake of Total Recall, it's time to move from hand-wringing to acceptance. Despite your fond memories of the original (the duplicitous nature of Sharon Stone, the Arnold Schwarzenegger one-liners, the crazypants ultra-violence procured by Paul Verhoeven), this is happening. Still, what can Wiseman do to keep fans happy? Here are the three key moments that the Total Recall remake must include from the original.
· The hooker with three boobs
Part of the allure of Total Recall is that its "cheap" effects work never takes you out of the film. It's tangible -- you can wrap your head around what you're seeing because Verhoeven uses make-up, models and miniatures to tell his story. Wiseman -- he of the CGI werewolves in Underworld and the CGI Bruce Willis in Live Free or Die Hard -- would do best to attempt a similar path, especially when it comes to the infamous three-boob hooker. Scintillating and altogether ridiculous-looking, a Total Recall without a rubbery extra boob would be like a Terminator remake with a Terminator. It can't happen.
· The "two weeks" lady
The best set piece in Total Recall? Try the moment when Arnold's Howser/Quaid tries to sneak past airport security disguised as a fat woman in a futuristic yellow muumuu. It malfunctions, her head gets taken off (!) and turns into a bomb (!!) and the whole scene (watch below) closes with one of the classic one-liners from the film: "Get ready for a surprise!"
· "Get your ass to Mars"
Still, that one-liner isn't as classic as this one. "Get your ass to Mars" is one of those iconic lines so often repeated by lousy Arnold Schwarzenegger impersonators that it simply has to be in the remake of Total Recall. Just hope that Gerard Butler (or whoever gets cast in this new version) doesn't try to do it with Arnold's accent.
· Len Wiseman in negotiations to direct 'Total Recall' remake [THR]