Hollywood Jews Who Don't Control Media Unite to Get Oliver Stone Kicked Off Showtime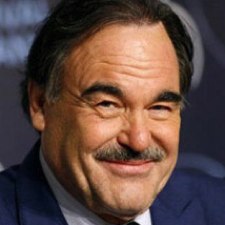 Talk about no-win situations: A day after Oliver Stone apologized for contextualizing Hitler and citing "Jewish domination of the media" ("Jews obviously do not control media or any other industry," Stone said), a pair of powerful and justifiably irate Jews have gotten together to persuade Showtime to cancel Stone's upcoming documentary on the network. Does anyone else see the problem here?
According to The Wrap, billionaire mogul Haim Saban and WME kingpin Ari Emanuel personally appealed to CBS boss Leslie Moonves to yank Stone's 10-part documentary -- A Secret History of America -- from the network's sister channel. Saban also lobbied CAA co-chief Bryan Lourd to drop Stone from the agency roster -- much like Emanuel did with Mel Gibson earlier this month. In an interview, Saban called Stone's apology "transparently fake," adding, "He has been consistent in his anti-American and anti-Semitic remarks. I respect his First Amendment rights. I hope he respects mine."
Maybe, but at some point the First Amendment is going to collapse in the black hole of Hollywood logic. This whole thing about influential Jews pulling together to block the airing of a documentary -- by a guy who publicly retracted his facile anti-Semitism by acknowledging "Jews obviously do not control media or any other industry" -- is more than a little counterintuitive. We're not talking about Mel Gibson here, either, whose films are tied up in distribution limbo. Were talking about Oliver Stone, who said these things in a publicity setting and has succeeded in getting continued, massive publicity for both his accused anti-American (South of the Border) and anti-Semitic (Secret History) documentaries.
So... yeah. Be mad and be outspoken, Mr. Saban. I swear I've got your back. But maybe be a little more discreet. And maybe watch the films first? Am I missing something here?
· Haim Saban to CBS: Cancel Oliver Stone's Showtime Series [The Wrap]