Did Elisabeth Hasselbeck Just Win Her Feud with Kathy Griffin?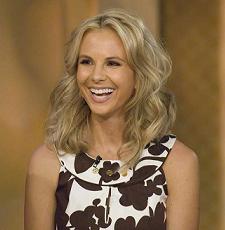 Feuds between huffy View panelists and loudmouth comedians aren't exactly titillating on paper, but Elisabeth Hasselbeck's war of whines with Kathy Griffin is a surprisingly good time. Today, Hasselbeck lashed out against Griffin for joking on My Life on the D-List that Sen. Scott Brown had "two daughters who are prostitutes," calling Griffin "scum." Did she have a point this time?
"In general, if someone called your daughter a prostitute would you think they'd be scum?" said Hasselbeck. "I'd call them scum."
Joy Behar defended Griffin and said it was just a joke, to which Hasselbeck declared Griffin should "get in line, and cut it out."
Griffin's strike against her in this brush-up is that her joke wasn't funny. Even if Scott Brown's daughters (who are not minors) attend modeling camps and appear on American Idol (which they have), the "prostitutes" barb was off-color, particularly in an already cringe-worthy episode of D-List. To Griffin's credit, she qualified her remarks during the D-List episode in question with a disclaimer that said approximately, "I know Scott Brown's daughters aren't prostitutes," which Hasselbeck failed to acknowledge.
But of course, Hasselbeck has a history of misrepresenting those she criticizes: During her tirade against Erin Andrews's "provocative" wardrobe on Dancing with the Stars, she claimed Andrews was practically naked on the show -- which she never was -- and then apparently lied about apologizing to her on the phone.
Hasselbeck doesn't win and can't win. As long as she fights Griffin's lack of filter without a sense of humor, her strange contempt for Griffin's existence just gets funnier. I'm reminded of Kathy Griffin's comments to Howard Stern a couple months ago, where the comedienne called out Hasselbeck for never treating Griffin's jokes as jokes, regardless of whether she laughed: "My show is called My Life on the D-List because I know my place. If you're the girl from Survivor who gets this amazing opportunity, lose the 'tude and say thank you." As long as you forget that Kathy Griffin is no longer D-List, she's right on the money.
Interestingly, Mel Gibson-defender Whoopi Goldberg remarked that "if somebody talked about my daughter as a joke like that, I would beat their ass." But it wasn't a particularly cogent episode for Goldberg, who spent much of Hot Topics gigging and trying to explain that she was still on sedatives after a flight back from Vienna.
· Elisabeth Hasselbeck calls Kathy Griffin 'Scum' [EW]