TIFF Chooses Hockey Musical to Open 2010 Edition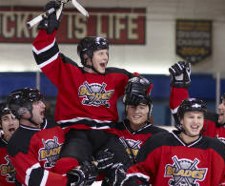 The Toronto International Film Festival drew scorn in 2009 not only for choosing a British production for its opening-night gala, but also for choosing one of the year's most uninspired films -- Creation -- of any origin. No need to worry about that in 2010: The fest has selected new opener Score: A Hockey Musical for its official return to form. And Olivia Newton-John's invited to boot!
The announcement tumbled over Movieline's sleekly redesigned transom this morning, and it's a doozy -- Canadian-style:
The Toronto International Film Festival opens September 9 with the world premiere Gala Presentation of Score: A Hockey Musical, written and directed by Michael McGowan (One Week, Saint Ralph). The film tells the story of a teenage hockey phenom who lives the quintessential Canadian dream of being discovered on the ice and goes from obscurity to fame overnight. The film stars musical icon Olivia Newton-John, singer/songwriter Marc Jordan, newcomers Noah Reid and Allie MacDonald, and features cameos from an impressive lineup of Canadian music, broadcast and hockey stars. [...]
In the film, 17-year old Farley has led a sheltered life. Much to the dismay of his parents (Newton-John, Jordan), Farley loves to play shinny with the local rink rats. To their even greater dismay, Farley is signed to a hockey league, where he achieves instant stardom, throwing him into a world of hype. Farley soon finds that hockey fame comes with a price.
The film co-stars Stephen McHattie, John Pyper-Ferguson and Brandon Firla and features cameos by music artists Nelly Furtado, Hawksley Workman and John McDermott, journalists George Stroumboulopoulos and Evan Solomon, sports anchor Steve Kouleas, hockey dad Walter Gretzky and hockey star Theo Fleury.
Score: A Hockey Musical features 19 original songs with lyrics written by McGowan, and featuring music from Barenaked Ladies, Olivia Newton-John, Amy Sky and Marc Jordan, and five songs on which Hawksley Workman contributed.
So, if you're keeping score at home, the Canadians, the Aussies, the NHL, the gays, the puckheads, the cult of Barenaked Ladies, and of course film geeks are represented. We're just a riot short of the most perfectly microcosmic opener in fest history! Exciting! Much more TIFF coverage forthcoming here as the Sept. 9 kick-off. approaches...