Confirmed: Beavis, Butt-head and Music Videos Returning to MTV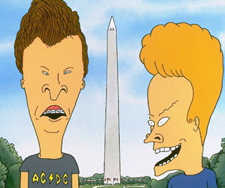 Instead of reviving the brainless cast of The Hills for another disappointing season, MTV has decided to go highbrow... by resurrecting Beavis and Butt-head. As obnoxious as the 90s duo was (and will no doubt continue to be), I think we can all agree that the network's programming decision is a positive one. Because let's face it: Comparing Beavis and Butt-head to The Hills is like comparing Masterpiece Theatre to...The Hills.
The New York Post confirmed the story that was first reported by REVIEWniverse last week:
The new series would keep Beavis and Butt-head in their perpetual high-school state, but it would be updated so that the pals -- who obsessively watch music videos on a battered TV set -- could lob their snarky comments at more current targets like Lady Gaga.
But MTV also has an ulterior motive for the boys' re-introduction:
The return of Beavis and Butt-head will be a backdoor means for MTV to return to showing music videos -- something the network was founded upon but abandoned in the last decade to make room for popular reality shows like Laguna Beach, The Hills and Jersey Shore.
While MTV has confirmed that the show's creator, Mike Judge, will be creating the new episodes, the King of the Hill creator is not yet commenting on the project.
Now if only MTV could cancel The City and bring back Daria...
· They're back! Heh heh, it's 1995 all over again, dude [NYP]