Will Joaquin Phoenix Replace Edward Norton in The Avengers?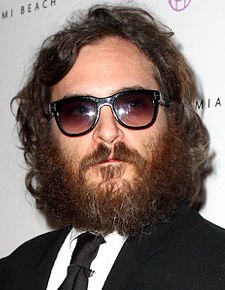 It simply doesn't seem possible for anyone to care this much about who plays the seventh lead in a comic book movie that won't be released for another two years, but leave it to Marvel to make a simple casting decision feel like an event. All that was missing from the "Let's toss Edward Norton under the bus!" e-mail that Kevin Feige sent out this weekend was an option to read it in 3D and a picture of Scarlett Johansson wearing a skin-tight leather jumpsuit. But there is good news: Once Comic-Con hits in two weeks, all these Avengers stories, rumors and innuendos will be over. But until then: Have you heard the one about Joaquin Phoenix?
According to Devin Faraci over at CHUD, sources tell him that Marvel has an offer out to Phoenix to take over for Edward Norton as Bruce Banner in The Avengers. Because nothing says "actor who embodies the creativity and collaborative spirit of our other talented cast members," like a dude who got crapped on for a faux-documentary.
Phoenix is supposedly "mulling" the offer over -- oh, there's that grain of salt I was looking for -- because of "the bigger implications" of starring as a possible franchise character. As in: Why would the famously shy Joaquin Phoenix want to play someone who could wind up being lunch-box ubiquitous? No word yet on the other actors that Marvel is looking at to replace Norton, but rumor has it that Mel Gibson has quite the Hulk-like audition tape available.
EARLIER: Marvel To Norton: Sorry But You're Kind Of A Jerk [UPDATE]
· Will the New Hulk Rise Like a Phoenix? [CHUD]