Hoo Boy: New Legends of the Guardian Trailer Has Owls For All Seasons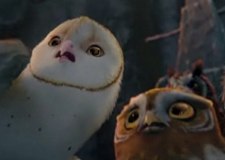 "From Warner Bros. Pictures, the studio that brought you Happy Feet..." That's as specific an internal endorsement as Warners is ready to give its this fall's animated epic Legend of the Guardians: The Owls of Ga'Hoole, whose new trailer declines to mention director Zack Snyder ("From the director of Dawn of the Dead, 300 and Watchmen" just didn't have the same family-friendly ring) and a voice cast including Helen Mirren, Geoffrey Rush, Abbie Cornish, Jim Sturgess and Hugo Weaving. This one will live and die by its animation, thank you very much. Lucky them: The strategy worked.
I could do without the portentous old-owl entreaties and young-owl cutesiness, but then again, I'm not the audience for this. Kids and parents will equally be happy to hear that they won't be wasting their time on these visuals, which look pretty great -- as in, a step ahead of the Oscar-winning Happy Feet. Based on the book series by Kathryn Lasky, the story follows owlet Soren and his brother Kludd in their quest for the mythical Guardians of Ga'Hoole, who'll save the Owl Kingdom from the evil-talon clutches of the so-called "Pure Ones." It's like Lord of the Rings had a three-way with Harry Potter and Winged Migration or something, maybe a little too overextended with its sense of wonder, and unfortunately reliant on a soundtrack by 30 Seconds to Mars. Was Daughtry not available?
Anyway, it looks sharp and that's good enough. Plus, in a weak year for animated films, this may have locked up an Academy nod -- and maybe even a front-running spot -- already. For what it's worth, just saying, etc.
VERDICT: Sold!
[via Yahoo! Movies]