Debra Granik, John Hawkes, and Dale Dickey on How They Pulled Off Winter's Bone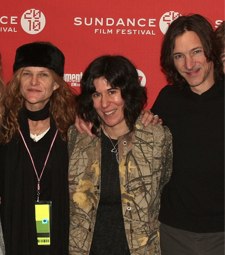 At the Sundance film festival this year, Debra Granik's Ozark drama Winter's Bone was one of the most buzzed-about titles, earning plaudits for its impressively conjured setting and riveting cast. We've already brought you a Verge interview with Jennifer Lawrence, who plays the film's lead Ree, but as Winter's Bone goes into limited release this weekend, here's more about the movie from some of the people who know it best: Granik, John Hawkes (who almost walks away with the film as Ree's fearsome uncle Teardrop), and Dale Dickey (who plays the stubborn, implacable mountain woman Merab).
Debra, as an outsider to this Ozark environment, but one who's striving for a high degree of verisimilitude in how you portray it, how do you earn the trust of the locals?
DEBRA GRANIK: Well actually, [John and I] were more outsiders. Dale, am I right -- you've got people like this in your life?
DALE DICKEY: I grew up in East Tennesse, so I sort of knew that world and those people. I felt fairly comfortable, but once you get there and meet the families, you want to treat them with respect. You just have to be yourself and respect them and honor their needs. It seemed like an easy transition, they took us in very quickly.
JOHN HAWKES: That might be oversimplifying it! Debra, you were there for a long time [prior to shooting] and getting kicked off properties, right?
GRANIK: Dale at least had this openhearted calibration point. People we met didn't necessarily seem so strange to her. What I mean to say is that I don't have relatives who resembled anything I saw -- I'm a super East Coast person! I felt happy that some people in the cast had roots that were really different from my own. I think that for John and myself, it was about observation and asking permission on many levels.
What kind of permission did you have to ask for?
GRANIK: Not just the legal level of "Can we shoot on your property?" but "Can we hang out all day?" and "Is it OK if we shoot 40 pictures of your dinner tonight?" [Laughs] Or, "Do you think this is realistic?" "Could you read the novel?" Some words were actually not contemporary enough, so it was about asking people to be in collusion with us. I think there's a sense that if you draw them in, some people are actually aligned with the film and rooting for it to tell a good tale.
DICKEY: They were very much a part of it, hanging out on set.
Pages: 1 2