Boycotts Urged Over White Stars in Prince of Persia, Last Airbender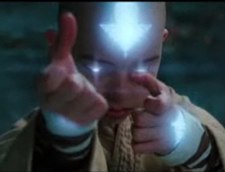 If it's summer, and there are a pair of mainstream blockbusters about Persian and Asian warriors ready to open, then count on a "yellowface" controversy to saddle both on the way to release. Such are the scenarios facing Prince of Persia and The Last Airbender, both of which are presently on defensive as unfortunate casualties of the Slowest News Day of 2010.
The LAT on Sunday filed from both fronts, first documenting actual Persians' displeasure that fake-Persian Jake Gyllenhaal was portraying the titular hero of Prince of Persia. No one would comment from the production side, though a previously used Jerry Bruckheimer gem was dusted off for historical context: "Persians were very light skinned. [...] The Turks kind of changed everything. But back in the 6th century, a lot of them were blond and blue-eyed." While not easily swallowed by the film's outraged critics, this little-known historical detail was indeed confirmed by Disney's Middle Eastern sensitivity consultant, who has reached out to skeptical cultural organizations to insist that Prince of Persia is the "anti-300 [...] If we went back in time 1,700 years to the mythological era, all Iranians would look like Jake Gyllenhaal." What? Then why are the bad guys in the trailer and TV spots so much swarthier than Gyllenhaal? Not very Aryan, pal!
Meanwhile, Manoj Night Shyamalan doesn't have that excuse for The Last Airbender. The filmmaker cast young Caucasian actor Noah Ringer as his adolescent hero Aang, who, along with his pals, engage the Fire Lord and Co. in a battle to save the world. I'm fairly sure Asians weren't Aryan whenever this one was set, but the director was able to stem a bit of the protest around the casting by replacing Jesse McCartney with Dev Patel as dark prince Zuko and installing Native American Maori actor Cliff Curtis as chief baddie Ozai. Manoj addressed this last year in an interview with the paper ("Ultimately, this movie, and then the three movies, will be the most culturally diverse tentpole movies ever released, period. So if I'm failing the bar, I'm not sure whose bar is set higher than this movie"), but now an organization called Racebender is coming right and urging a boycott.
Paramount has offered to screen Airbender for the group once its 3-D conversion is completed, but has released a statement in the meantime:
"The movie has 23 credited speaking roles -- more than half of which feature Asian and Pan Asian actors of Korean, Japanese and Indian decent. The filmmaker's interpretation reflects the myriad qualities that have made this series a global phenomenon. We believe fans of the original and new audiences alike will respond positively once they see it."
Mickey Rooney in Breakfast at Tiffany's, though? Still racist. There's your bar, Manoj.
· A whitewash for 'Prince of Persia: The Sands of Time' and 'The Last Airbender' [LAT]