REVIEW: Shrek Forever After a Witty, Fitting Franchise Finale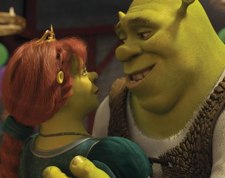 That the Shrek films have always had one eye firmly on the chaperones -- regularly casting clever asides, storybook mash-ups, and classic rock riffs into their corner -- is one of their canniest innovations. While appealing to parents is standard procedure today, at the time of the original's release, in 2001, it still seemed like a clutch move, elevating the film above the steady flow of Disney treacle it took pleasure in subverting and taking up Pixar's gauntlet. Almost a decade after its inception, having slightly adjusted the bar for family entertainment, the franchise finds an apt farewell in Shrek Forever After. More redux than sequel, the final Shrek is more parent- (and specifically dad-) oriented than ever; it may also produce the first twinge of nostalgia in the kids who thrilled to the original at a formative age.
Shrek Forever After works too hard and too long to establish an obvious setup: Shrek is bored. The ogre's got it all: the wife, the kids, the home, the notoriety, and enough time on his hands to stew over losing his edge. Feeling trapped in his "jolly green joke" persona and the ritualized perfection of his life, Shrek (Mike Myers), much like the hero of last year's Fantastic Mr. Fox, is looking for one last hurrah. He doesn't want to buy a Jag and bang an ingénue; he just wants to pose a threat, make some trouble, recover some of the old, rampaging magic.
It's a cute overlap with DreamWorks' ambitions for their cash cow's sign-off (especially considering the dreadful reception of Shrek the Third in 2007), and the regression proceeds pretty literally, with Shrek first falling prey to an "Ogre for a Day" scam run by one Rumplestiltskin (the amazing Walt Dohrn). Taken to a version of Far, Far Away unblessed by his existence, he must once again find and share true love's kiss with Princess Fiona (Cameron Diaz, bland and random as ever in a critical role), gleaning along the way, of course, that it's a wonderful life after all.
Contemplating the world without Shrek has re-energized the filmmakers (director Mike Mitchell and writers Josh Klausner and Darren Lemke, all new to the franchise): re-positioning each of the well-known characters in a debauched kingdom ruled by Rumplestiltskin sets up some of the film's best jokes. Donkey (Eddie Murphy, killing it) is a jackass-for-hire for a "crone's nest" of witches, Puss In Boots (Antonio Banderas) is a kept cat run to fat, Fiona rules the ogre underground as a princess warrior, and even poor Ginger is held captive and forced to perform in brutal cookie gladiator matches.
Mitchell, on point and under some kind of divine, vaudevillian influence, finds pockets to fill with visual wit and character flourishes that lazier filmmakers would bypass completely. This film wants to entertain you -- a relief in itself that soon relaxes you into total submission. Yes, some of the rehashed gags are unabashedly broad (this franchise was never above dropping a Lionel Ritchie sample with a big, muggy grin), but the film avoids stifling self-parody, largely on the strength of its story. The IMAX 3-D enhances the film's unique, middle earth on mushrooms look; used to sparing effect -- if anything the premise is more baroque -- it adds impact to some of the tour-de-force sequences, most memorably a broomstick chase through Rumplestiltskin's palace.
Would that every sequel followed the first rule of sequels: Find a reason to exist. Shrek Forever After does that and more, forging a pretty bulletproof family film from what from what I, at least, feared would be a worn-out formula. It revisits the tightly scripted appeal of the original as well as its nicely wrought realization of an old theme: Be yourself, whoever that is, and be proud. Though this is largely a Shrek-heavy, midlife-crisis-esque tack on that theme, there's some pretty sweet feminist backspin built into Fiona's alternate existence as well, notable in a realm that tends to pander to its female audience in the hopes of earning a PC pass. For the Shrekkies and Shrekettes who have grown up with these films -- awkward phase and all -- and for the adults cracking up gratefully at their sides, I can't imagine a happier ending.