Japanese Electronics Ad Reveals Rare Glimpse of Avatar Allergens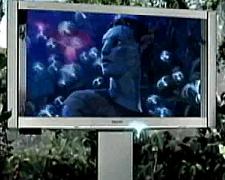 It's been a month since Avatar Day -- a long, hard month where we've had naught to feast on but James Cameron's cerulean table scraps. But wait, what's this? Could it be? Brand-new Avatar footage in a delightfully trippy Japanese TV commercial? Let's take a look.
Cameron announced last month that he'd be signing on with Panasonic to let the electronics manufacturer use Avatar footage to plug their 3D TVs in Japan (even though Avatar surely won't penetrate the home video market there until next summer, at the earliest).
Here, then, is the product of that deal: a commercial that finds a beautiful Japanese woman wandering around a Pandora zen garden, where she stumbles upon a 3D TV that infects her DVD player with alien dust mites, or something. Anyway, she isn't even using her Avatar to weather Pandora's toxic atmosphere so she'll certainly be dead within minutes. Enjoy!