Sundance Film Festival Reveals 2013 U.S. & World Competition Slate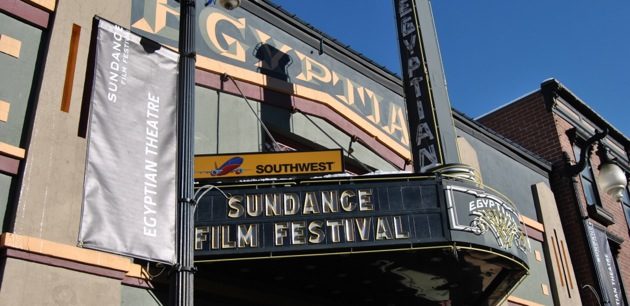 WORLD CINEMA DOCUMENTARY COMPETITION
Twelve documentaries by some of the most courageous and extraordinary filmmakers working today.
Fallen City / China (Director: Qi Zhao) — Fallen City spans four years to reveal how three families who survived the 2008 Sichuan earthquake to embark on a journey searching for hope, purpose, identity, and to rebuild their lives in a new China torn between tradition and modernity. North American Premiere
Fire in the Blood / India (Director: Dylan Mohan Gray) — In the late 1990s and early 2000s, Western governments and pharmaceutical companies blocked low-cost antiretroviral drugs from reaching AIDS-stricken Africa, causing 10 million or more unnecessary deaths. An improbable group of people decided to fight back. North American Premiere
Google and the World Brain / Spain, United Kingdom (Director: Ben Lewis) — In the most ambitious project ever conceived on the Internet, Google has been scanning the world's books for 10 years. They said the intention was to build a giant digital library, but that involved scanning millions of copyrighted works. World Premiere
The Machine Which Makes Everything Disappear / Georgia, Germany (Director: Tinatin Gurchiani) — A film director casting a 15-23-year-old protagonist visits villages and cities to meet people who answer her call. She follows those who prove to be interesting enough through various dramatic and funny situations. North American Premiere
The Moo Man / United Kingdom (Directors: Andy Heathcote, Heike Bachelier) — A year in the life of heroic farmer Steve, scene stealing Ida (queen of the herd), and a supporting cast of 55 cows. When Ida falls ill, Steve's optimism is challenged and their whole way of life is at stake. World Premiere
Pussy Riot – A Punk Prayer / Russian Federation, United Kingdom (Directors: Mike Lerner, Maxim Pozdorovkin) — Three young women face seven years in a Russian prison for a satirical performance in a Moscow cathedral. But who is really on trial: the three young artists or the society they live in? World Premiere
A River Changes Course / Cambodia, U.S.A. (Director: Kalyanee Mam) — Three young Cambodians struggle to overcome the crushing effects of deforestation, overfishing, and overwhelming debt in this devastatingly beautiful story of a country reeling from the tragedies of war and rushing to keep pace with a rapidly expanding world. World Premiere
Salma / United Kingdom, India (Director: Kim Longinotto) — When Salma, a young girl in South India, reached puberty, her parents locked her away. Millions of girls all over the world share the same fate. Twenty-five years later, Salma has fought her way back to the outside world. World Premiere
The Square (El Midan) / Egypt, U.S.A. (Director: Jehane Noujaim) — What does it mean to risk your life for your ideals? How far will five revolutionaries go in defending their beliefs in the fight for their nation? World Premiere
The Stuart Hall Project / United Kingdom (Director: John Akomfrah) — Antinuclear campaigner, New Left activist and founding father of Cultural Studies, this documentary interweaves 70 years of Stuart Hall's film, radio and television appearances, and material from his private archive to document a memorable life and construct a portrait of Britain's foremost radical intellectual. World Premiere
The Summit / Ireland, United Kingdom (Director: Nick Ryan) — Twenty-four climbers converged at the last stop before summiting the most dangerous mountain on Earth. Forty-eight hours later, 11 had been killed or simply vanished. Had one, Ger McDonnell, stuck to the climbers' code, he might still be alive. International Premiere
Who is Dayani Cristal? / United Kingdom (Director: Marc Silver) — An anonymous body in the Arizona desert sparks the beginning of a real-life human drama. The search for its identity leads us across a continent to seek out the people left behind and the meaning of a mysterious tattoo. World Premiere. DAY ONE FILM
NEXT
Pure, bold works distinguished by an innovative, forward-thinking approach to storytelling. Digital technology paired with unfettered creativity proves the films selected in this section will inform a "greater" next wave in American cinema.
Blue Caprice / U.S.A. (Director: Alexandre Moors, Screenwriters: R.F.I Porto, Alexandre Moors) — An abandoned boy is lured to America and drawn into the shadow of a dangerous father figure in this film inspired by the real life events that led to the 2002 Beltway sniper attacks. Cast: Isaiah Washington, Tequan Richmond, Joey Lauren Adams, Tim Blake Nelson, Cassandra Freeman, Leo Fitzpatrick.
Computer Chess / U.S.A. (Director and screenwriter: Andrew Bujalski) — An existential comedy about the brilliant men who taught machines to play chess – back when the machines seemed clumsy and we seemed smart. Cast: Patrick Riester, Myles Paige, James Curry, Robin Schwartz, Gerald Peary, Wiley Wiggins.
Escape from Tomorrow / U.S.A. (Director and screenwriter: Randy Moore) — A postmodern, surreal voyage into the bowels of "family" entertainment; an epic battle begins when an unemployed, middle-aged father loses his sanity during a close encounter with two teenage girls on holiday. Cast: Roy Abramsohn, Elena Schuber, Katelynn Rodriguez, Annet Mahendru, Danielle Safady, Alison Lees-Taylor.
I Used to Be Darker/ U.S.A. (Director: Matthew Porterfield, Screenwriters: Amy Belk, Matthew Porterfield) — A runaway seeks refuge with her aunt and uncle in Baltimore, only to find their marriage ending and her cousin in crisis. In the days that follow, the family struggles to let go while searching for things to sustain them. Cast: Deragh Campbell, Hannah Gross, Kim Taylor, Ned Oldham, Geoff Grace, Nick Petr.
It Felt Like Love / U.S.A. (Director and screenwriter: Eliza Hittman) — On the outskirts of Brooklyn, a 14-year-old girl's sexual quest takes a dangerous turn when she pursues an older guy and tests the boundaries between obsession and love. Cast: Gina Piersanti, Giovanna Salimeni, Ronen Rubinstein, Jesse Cordasco, Nick Rosen, Case Prime.
Milkshake / U.S.A. (Director: David Andalman, Screenwriters: David Andalman, Mariko Munro) — In mid-1990's America, we follow the tragic sex life of Jolie Jolson, a wannabe thug (and great-great-grandson of legendary vaudevillian Al Jolson) in suburban DC as he strives to become something he can never be – black. Cast: Tyler Ross, Shareeka Epps, Georgia Ford, Eshan Bay, Leo Fitzpatrick, Danny Burstein.
Newlyweeds / U.S.A. (Director and screenwriter: Shaka King) — A Brooklyn repo man and his globetrotting girlfriend forge an unlikely romance. But what should be a match made in stoner heaven turns into a love triangle gone awry in this dark coming-of-age comedy about dependency. Cast: Amari Cheatom, Trae Harris, Tone Tank, Colman Domingo, Isiah Whitlock Jr., Adrian Martinez.
Pit Stop / U.S.A. (Director: Yen Tan, Screenwriters: Yen Tan, David Lowery) — Two working-class gay men in a small Texas town and a love that isn't quite out of reach. Cast: Bill Heck, Marcus DeAnda, Amy Seimetz, John Merriman, Alfredo Maduro, Corby Sullivan.
A Teacher / U.S.A. (Director and screenwriter: Hannah Fidell) — A popular young teacher in a wealthy suburban Texas high school has an affair with one of her students. Her life begins to unravel as the relationship comes to an end. Cast: Lindsay Burdge, Will Brittain, Jennifer Prediger, Jonny Mars, Julie Phillips, Chris Dubeck.
This is Martin Bonner / U.S.A.(Director and screenwriter: Chad Hartigan) — Martin Bonner has just moved to Reno for a new job in prison rehabilitation. Starting over at age 58, he struggles to adapt until an unlikely friendship with an ex-con blossoms, helping him confront the problems he left behind. Cast: Paul Eenhoorn, Richmond Arquette, Sam Buchanan, Robert Longstreet, Demetrius Grosse.
Which Sundance '13 films have you excited? Leave your picks below!
Follow Movieline on Twitter.