Alex Gibney On What The Pope Knew (And Why He Did Nothing) In 'Mea Maxima Culpa: Silence In The House of God'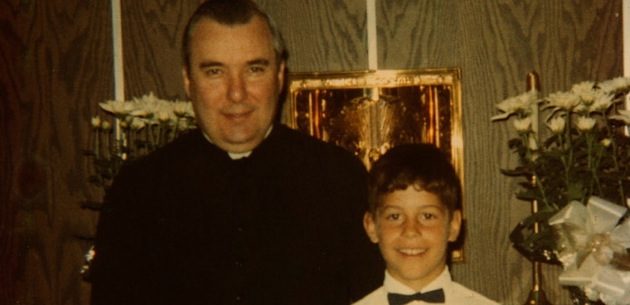 In the film, you point out that Sandy Weill and Jeb Bush were friends of Maciel.
And Carlos Slim. And Rick Santorum.
You indicate that Maciel brought millions of dollars into the Vatican's coffers, so he was protected, right?
Right. And of course they can all excuse it, "Oh, he's a holy man. He's done so much good for the church." You keep hearing that over and over and over again — just like Murphy. Among the deaf community in Milwaukee, Murphy had raised a ton of money for St. John's. He was an expert signer. He had in some ways made the educational experience in St. John's very good, except for the fact that he abused a couple hundred children. So there were a lot of people who were like, 'Okay, so he's made a few mistakes.
Meanwhile, the Archbishop of Dublin is saying he's too busy to look into sexual abuse allegations in his backyard. 
Oh, my God. That's one of the most chilling lines of the film: Des Connell, the Arch Bishop of Dublin, on being asked by a reporter why he didn't reach out to the victims of the singing priest Tony Walsh, says, "Oh, I suppose I should have, but I have so much to do." Yeah, you were so fucking busy worrying about what kind of color crepe to hang over the altar that you couldn't bother protecting children from rape.
Did immersing yourself in this subject give you any insights as to why sexual abuse in the church is so prevalent? Why are there so many priests abusing children?
I think you have two problems. One is the problem of secrecy. You have the secrecy that's inherent to the priesthood, which is supposed to be a society set apart, and you have sexual secrecy at the heart of all this. The church demands celibacy of its clergy, and yet we know that at least 50 percent of the priesthood do not follow their own vows of celibacy. So they're having sex. But they're not talking about it.
Except for Andrew Greeley's book's, you don't hear about it. So there's an essential secrecy and, sometimes, a kind of blackmail system. And the Catholic Church also has laws about secrecy, particularly when people are suspected of committing sexual crimes in the confessional. So, over time, the Catholic church becomes a haven for these people because they're never exposed.
You left me with the impression that the Vatican is never going to reform when it comes to this issue.
I agree. I despair of their reformation, although I certainly hope for it. Imagine the effect it would have if Pope Benedict systematically went around to all of the sites where the worst abuses occurred and apologized to the victims in the congregation. And imagine the Vatican saying, we're not so concerned about money as we are about showing the truth. So we're going to open all of our archives. But it's hard to imagine because the Vatican is so wedded to the things that are so un-Christian about its essence, which is power and money.
So much for spirituality.
The defenders of the church would say, "We're not going to have our Pope kneeling for a lot of ambulance-chasing lawyers. And Jeff Lena, the attorney for the Vatican, is aggressive on this. They're intoxicated still by their own power, even though people are leaving the church in droves. I often wonder why do people need the Pope? Why can't you be Catholic without the Pope? Why not build another church next to the one that exists in the town you live in and go there and hire a priest who believes all the same things and have a minister at mass,. But you don't have to have all that money making its way to the Vatican, which has a system of hierarchical control that is clearly pernicious.
Did you get a lot of legal pushback from Vatican while you were making this documentary?
Nothing. For a long time we kept the film under wraps and we didn't announce it on purpose, in part, because we wanted people from the Vatican to talk to us. We tried very hard to get them to talk. I didn't expect the Pope to talk, but I certainly hoped that the person who's now the head of the Congregation of the Doctrine of the Faith [Archbishop Gerhard Ludwig Müller] would. He's a very articulate guy. We even asked Cardinal Dolan, the most powerful cleric in America, to talk. He didn't. Talk about a conspiracy of silence.
So, their strategy is ignore it and it will go away.
They always want to move on. It's like Obama with the torture issue: "We're not going to go back. We're going forward." But if you stop and think about that, it's like saying to the family of murder victims, "We're not going to have a trial. After all, the person's dead. It's not going to bring him back. So let's just move on shall we?" This is about justice. That's what the victims want. They want some sense of justice.
Regarding Pope Benedict's conduct in all of this. Given his prior involvement as Prefect of the Congregation of the Doctrine of the Faith, he's obviously been immersed in the issue of sexual abuse in the church for decades. Has he simply been playing politics all of this time?
I do believe that he is genuinely disgusted by the abuse of children. That's genuine. But also he lives within this political hierarchy. As somebody says in the film, this man knows more about clerical sex abuse than any human being on the planet because all the cases came through his office. In some instances, such as the case with Maciel, he tried to do something but was stopped. So, he's a politician. Nobody likes to think of it that way. He's supposed to be the Holy Father. He's supposed to  be infallible. That's one thing I don't get:  I can understand belief in God, but how you can invest a human being with any sense of infallibility.
There's another point you make in the film that really resonated with me: That sexual abuse is a kind of homicide because the abuser is —
Murders your soul. Soul murder is what some people call it. Under canon law, using the confessional to commit sexual abuse is a crime that has no statute of limitations. The thinking is that you're at your most vulnerable. You've been utterly honest before God and then the priest uses that honesty to abuse you. Well that's a form of soul murder because the priest is destroying your sense of faith.
Follow Frank DiGiacomo on Twitter.
Follow Movieline on Twitter. 
Pages: 1 2