From Bridesmaids To Bachelorette: Why Rebel Wilson Is The Most Interesting Woman In Hollywood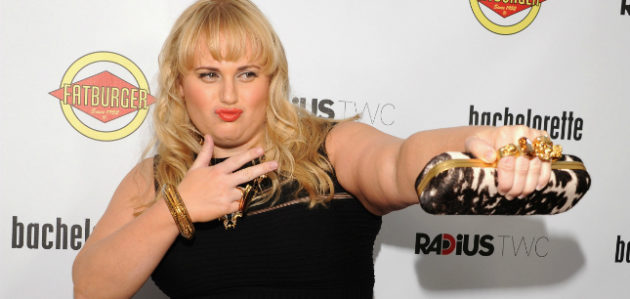 What has your L.A. experience been like so far?
It's been good but it was really hard at first. Moving to another country where nobody knows you and you don't know anyone, and trying to basically start from scratch because even though I'd done 13 TV shows in Australia no one knew me here. So you have to prove yourself — and random stuff, you have to find a place to live, you literally come with one or two suitcases and that's all you have… I underestimated how hard it was going to be. It's really tough when something bad happens and you don't have any family members or anyone in this country. But you make friends and you start working here and it becomes so amazing. L.A. has the best weather! I come from culture where you drive everywhere, so I love driving everywhere — and I love that you have valet here, we don't have that in Australia.
Sure, but the ubiquitous valet in L.A. is hard to get used to at first.
I know – at first I thought, is this safe? Just handing over the keys?
I think about that every single time.
What could stop these people from just taking this car? Nothing! Just a little paper ticket. That's not going to do anything. [Laughs] But I love that I'm not a tourist here anymore. I love all the restaurants, all the shops. I used to love The Grove. I'd call it my happy place, because they play music and I'd just walk down the street, just wearing my track suit, going to The Grove…
You're the latest in a wave of young Australian talent making it big in Hollywood.
Australians do well here! We are a small country — there are only like 300 actors who work consistently in Australia.
It's such a small creative community, you'd think you could just call up Chris Hemsworth to hang out.
Well, I would like to. I love those Hemsworth brothers. It's weird, because you kind of know who everybody is, but I'm not shallow enough to say, "We're best friends!" When I came over another guy came who I knew, Jason Gann, who has a show on FX called Wilfred — we kind of helped each other a bit because we were friends from before in Australia. But it's not like you can just call up Nicole Kidman. I'd just feel weird about it. But I love that Americans are so accepting of Australians and think we're really good actors. I have a theory about that: I think in the wars, Australia's always helped America and we've been allies, so I think culturally somehow there's an acceptance.
Embedded in our collective psyche.
One day I was like, why aren't Americans pissed off that these Australians are taking their acting jobs? Because we're friends. The countries are friends.
I also think Crocodile Dundee did a lot to establish goodwill between our people.
I love that movie. That's possible.
So I've become nearly obsessed with Pitch Perfect. Were you always a singer?
I trained in musical theater when I was training as an actor, and I love it. I've done workshops for professional musicals but I've never actually had time to do the actual productions, because theater is a big commitment. But I love singing.
I heard you're a fan of gangster rap.
Yes! And Ester Dean, who's in Pitch Perfect, is a huge songwriter who writes a lot for Rihanna and Nicki Minaj. It's her first-ever movie. She knows all the rappers because she works with them and writes songs for them, and I like hearing about it because we didn't have African-American people in Australia, obviously, so I'm fascinated with it and hearing what it's like to be in the hip-hop world.
Have you asked to tag along in any of her hip hop adventures?
We went with her to see Jay-Z and Kanye West — we had a huge bodyguard, in New Orleans.
How many times did they sing "N***** in Paris?"
Nine times. But she knew they were going to do it, so we left after the first time. She goes, "They're going to play it nine times." She'd already talked to Jay-Z. But we were front and center and there was a ghetto girl fight behind us where some girl got off her stiletto and hit another girl. It was full-on gangster. All these hoochie mamas there, and I was the only white girl. [Laughs]
You're also in Struck By Lightning, which is the debut of Glee's Chris Colfer. What was your impression of him as a budding writer?
Chris is brilliant. He just turned 22, he wrote Struck By Lightning, and when you watch it you wouldn't think it was written by a young guy. It's got so much heart, it's really emotional — I always cry when I watch it. My character is really sweet and based on one of Chris's real friends, who I met. It was such a fine line to play her. But he's a really talented guy.
Since you also worked on Pain & Gain, I have to ask: What's the one most surprising thing you learned about Michael Bay?
He loves push-up bras. I'd never worn a push-up bra before. He does something like films the Victoria's Secret stuff when he's not busy with blockbuster movies. All I wear in the movie is push-up bras. I'm like, "Are you sure you don't want me to wear, like, clothes?" He just loves it for some reason.
The true crime story that Pain & Gain is based on is one of the sadder, crazier things I've read.
All the details! The comic details. The story of what happened is so awful — they burnt the guy, and they rolled over in the car – but then there are so many comic details, so the movie is going to be fascinating.
Finally, you've got a TV show called Super Fun Night in the works — but it's undergone some changes along the way. And Conan is involved!
It was with CBS and they didn't have a slot for this, so we're going to re-pilot for ABC and we just started that. We were lucky there were four other networks that wanted it, and we were the only ones rescued from the pilots that didn't get picked up, to get a second chance. Conan is producing it — it's about three girls who live in New York. I play the main one, Kimmy. They're just very nerdy, they really don't have a social life so they say, OK – every Friday night we're going to try something else and get out into the world, try to do something. They used to have a thing called Friday Night Fun Night where they stayed indoors and watched DVDs and ate pizza. Super Fun Night is their new concept as they try to become more cool and popular. It's kind of based on me. [Laughs]
Bachelorette is in limited release today. Bonus: Rebel Wilson is on Twitter!
Follow Jen Yamato on Twitter.
Follow Movieline on Twitter.
Pages: 1 2