Rupert Sanders On Dark Snow White and the Huntsman, 'Twilight Girl' Kristen Stewart, and Tarsem's Mirror, Mirror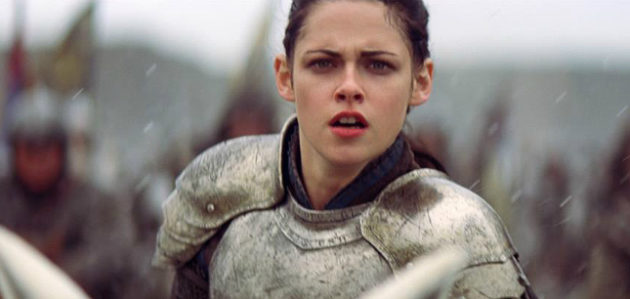 HOW DOES SWATH COMPARE TO ALICE IN WONDERLAND, OR... GLADIATOR?
Sanders credits SWATH producer Joe Roth for reinvigorating audience's interest in fairytales with his huge blockbuster success, Alice in Wonderland. But while initial marketing materials took a similar tack to the Tim Burton adventure, Sanders points out significant differences in tone and world-building in his film -- and compares it to two Oscar-winning classics.
"[Alice in Wonderland] was very hallucinogenic and very CG-based, very otherworldly. Ours is very realistic. It's really a big kind of swashbuckling knights in armor kind of movie, basically. We've lots of castles on hilltops and horse battles and shattering black armies, it's kind of a medieval fairytale, with the kind of scale of the films that people love, like Gladiator or Lawrence of Arabia. It's got those big sweeping vistas. It's a big and imaginative world."
ON KRISTEN STEWART AND THE TRICK TO AN ENGLISH ACCENT
Given the film's medieval setting, the non-British cast had to adopt appropriate period and regional accents, hence the recent big reveal of Stewart's English affect. Sanders explained: "If you're amongst the forest and there are knights in armor looking chivalrous behind you and then Snow White says, 'Is that, like, my castle?' it kind of goes pffft. So it was important that she wasn't Californian. It just felt that to fit into the world, all the characters have accents from that part of the world – Chris Hemsworth is Scottish, and Kristen is very kind of royal English, like me."
Stewart's accent training was extensive, but Sanders approves. "She was really great at it and she did the work. It's not easy – it's easy to do an accent for a few minutes, but to be able to do it without thinking about it so you can concentrate on the performance is very hard, and she worked with one of the best British dialect coaches. It's all 'A-E-I-O-U' and it's hours of work, and she did the work so that she was flawless and didn't need to worry about it and get on with the performance."
KRISTEN STEWART, WARRIOR PRINCESS?
Though she wields a broadsword and wears armor, Stewart's Snow White is no expert killer. "She wears a suit of armor but she's not suddenly Bruce Lee's adopted sister. She is wearing armor for protection and she has to kill a queen, she's not beheading people. She doesn't suddenly acquire these skills where she's something that she isn't. It's very instinctual, it's defensive. She knows she has to kill someone and that is abhorrent to her; that sword lies very uneasy in her hand."
That realistic take on Snow White's reluctant warrior nature may have been in part influenced by Stewart's first visit to weapons training. "When we first went to the stunt farm the stunt coordinator said, 'This is Linda, and she's going to show you how Snow White fights,'" remembered Sanders, miming expert sword twirling, "and me and Kristen were just like, 'Uh-uh.' I put that sword in her hand as I would put it in any of your hands, if I told you somebody was going to come through that door who had done something terrible to you and you have to kill them, I'm sure you'd fucking give them a good run for their money and that's how she fights. She's no ninja or samurai, it's purely reactive."
ON HAVING 8 DWARFS AND THE LATENT SEXUAL UNDERTONES OF THE MYTHOLOGICAL BEINGS
There's no big reason behind bumping Snow White's fabled seven dwarfs into a rounded octet, played by British actors Ian McShane, Johnny Harris, Bob Hoskins, Toby Jones, Eddie Marsan, Brendan Gleeson, Ray Winstone, and Nick Frost. "It wasn't like, 'We've got to have 8 dwarves!' It was like, 'Fuck it, let's have 8 dwarves.' The Snow White story or Snow Drop story, they just had dwarfs. We weren't trying to be Disney, we just wanted one more."
But what of the original sexual meaning within fairytale dwarf lore, according to Sanders? "The dwarfs really, mythologically, are latent sexuality," he explained. "They're half-men, so they're about sexual awakening."
That said, while Sanders is conscious of the meaning in the iconography he's playing with, his SWATH doesn't necessarily tap into every allegorical element of the fable. "There are no dwarf gangbangs," he joked. "It's really about another group of people who have lost everything because of the reign and they have been touched by Snow White and decide that they will fight for their pride alongside her. They're very instigative in taking her kingdom back with her."
BUT WHAT ABOUT TARSEM AND MIRROR, MIRROR?
Asked how he felt about the fact that another Snow White movie is coming out in the same season as his film, Sanders remained diplomatic. "Ah, Tarsem, Tarsem… We used to be represented at the same company so I know of Tarsem, and it's definitely a big veering from what he does normally – it's comedy, which is something that Tarsem's not known for."
"I think we're both getting a lot more publicity because both films are out there," he said. "They're very different and I think there's room for both of them. Look, I hope we both succeed and I hope people want to see two versions. People love to go, 'Oh, Hollywood's making two movies about the same thing, they're so dumb,' so everyone talks about it and actually I think it helps the awareness of the project.
That said, will he be checking out the competition, which debuts almost exactly two months prior to SWATH? "I don't know -- if you see a hooded man in the back of the theater…"
Snow White and the Huntsman is in theaters June 1. Read more from WonderCon 2012 here.
Follow Jen Yamato on Twitter.
Follow Movieline on Twitter.
Pages: 1 2