Glenn Ficarra and John Requa on Directing Crazy, Stupid, Love, the 'Antidote' to Summer Blockbusters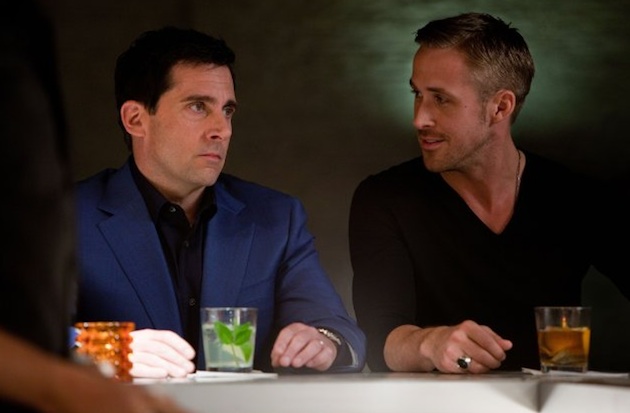 You say Crazy, Stupid, Love is an unconventional romantic comedy, but were there any particular movies you were looking at to figure out the tone you wanted to achieve?
JR: I think that a lot of the script is an unsentimental look of things that kind of resembles early James L. Brooks or early Cameron Crowe. And that definitely made it attractive, that it was more smartly written than most material out there. It made you ask the questions that excite actors and create good characters.
I Love You Phillip Morris was obviously an independent film, and here you are with a much larger budget on Crazy, Stupid, Love. As directors, was that overwhelming at all?
GF: When you make a movie with plenty of money, there is no drama. The studio has been unbelievable supporters of us and stood by what we envisioned for the film and what our actors wanted to do, 100 percent.
JR: There was never any drama, nothing. It's not your average movie, as we say, and they were totally supportive of that. They couldn't have been better partners.
GF: You know, it's interesting. When you make a movie -- we didn't have that much money. We made I Love You Phillip Morris for very little money, but ultimately this was just a little bit more money, and it makes a big difference. This is not what would be considered a big budget movie, but it's just having a little more of a cushion. It really just makes your life a lot easier. When you do a low budget movie you want as much of the money the screen -- which is true any time you make a movie -- as possible. When you do a low budget movie, you get a little over-ambitious. But when you make a movie like this, you can fit it more easily. This movie was less ambitious as far as locations. Phillip Morris had over 100 locations. We were doing what they call a "company move," which is packing up all our boxes and bags and moving. We did that every day we shot, and sometimes more than once. It was arduous. This was a movie with longer scenes and fewer locations. Basically, we could settle in for the entire day.
Crazy, Stupid, Love is coming out in the middle of a very competitive summer. Are you guys worried at all about its box office prospects?
JR: We're the antidote.
GF: In a summer of men in capes and tights, running around in outer-space, we're the movie about people; where you get a laugh and fall in love with [the characters]. And with the most talented actors in the business. We're not worried about it; we hope we can push through the background noise, but we feel confident that there's not another movie like this coming out in the summer.
JR: I don't even see movies like this very often. In the past couple of years, there's just not a lot of movies for grown-ups. Even young adults. It's all kind of the same.
GF: It's definitely for all ages, but it's not the same old, same old. I think that cast -- it certainly doesn't speak to our ability to attract people. It speaks to the script and the story, which is so strong, that we attracted really top talent.
The cast is a charm offensive. It's like you have the most likeable actors in Hollywood in one movie.
JR: I have to say that after working with them, that's absolutely true. They're all incredibly likeable people.
GF: The movie is a lot of fun. It's a lot of fun to watch; it's very funny. And that's kind of what it was like to make. It was a joy to go to work every day. Which is not always the case.
You're about three months away from release. Are you all done with the film, or do you have any changes you want to make?
GF: We just have some tweaks. We finished the movie at the beginning of the year, and we asked the studio to give us some time off from the movie. Because often times you just make a movie and you're making it, and -- boom, it's gone. But we thought, "Well we have this time, can we walk away from it for some months, come back to it and revisit it and see if there are any changes want to do?" It's a nice luxury most filmmakers don't get.
JR: We're actually doing that next week, and at the end of next week, we'll be done-done.
GF: Most of the changes we're going to do will be sound. One of the big things is we just want to make sure none of our songs ended up in laxative commercials. Because, we have a lot of popular music in the film.
OK, outside of Crazy, Stupid, Love, what other movies are you looking forward to this summer?
GF: Super 8.
JR: Super 8. Harry Potter. I really liked the last one, the first half of The Deathly Hallows. I thought it was fantastic. So morose and heavy. I loved it.
Everyone is on the Super 8 bandwagon it seems. What specifically about that film excites you?
JR: It's very obviously trying to harken back to the golden age of Spielberg.
GF: I just like lens flares. [Laughs]
JR: It's rare to see a movie from a kids point of view, too. You don't get a lot of movies nowadays like that -- back in the '80s there's a lot of movies about kids doing stuff and being involved in stuff. Like ET and The Goonies. That somehow feels out of fashion, and it's nice to see again.
GF: Also, Rise of the Planet of the Apes. Just because it looks like a more interesting take than trying to remake the original. I don't know if it's going to be a good movie or not, but I'm rooting for it.
JR: And Kung Fu Panda 2. I'm a huge fan of Kung Fu Panda. I honestly think that Jack Black's voice work in Kung Fu Panda is the best voice work that's ever been done. He's so funny, and it's such an endearing character. It really is great. I'm really looking forward to it, I really am.
Pages: 1 2