15 Awesome Minutes with the Awesomely Awesome Amy Ryan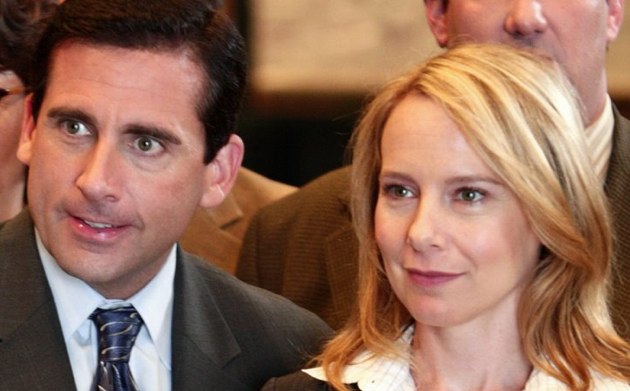 The Wire has been heralded as one of the best shows of all time. But when it was on, nobody watched it and even the major awards ignored it...
Oh my God, it was astounding how ignored it was.
Is it nice being a major part of The Office this season where you get the commercial and critical success?
Yeah, it is. Certainly, now, there's been so many people who came to The Wire after the fact - but it still matters. People are catching up with it now on DVD. But, no, it's a nice feeling that you were making people thing differently, or just simply making them laugh.
Having said that, are you prepared for America's scorn?
What's that?
Taking away Michael Scott...
Ohhh! [Laughs] I thought that was the name of a new show! I thought it was a new reality show!
I see here you're going to be a guest on America's Scorn?
That's a great title! Oh... yeah... I'm going to make it my ambition
and call my agent right now. "Get me on America's Scorn!" Well, I suppose. We'll see; we'll see the reaction.
The Office is good about making things absurd but also, in a case like this, sentimental, too.
They really do. What I've filmed, there's a great amount of absurdity between Michael and Holly. I think that is the key to their relationship, you know? And there's a lot of sentiment, as well.
You made guest appearance on an interesting assortment of television shows in the 1990s. What are your memories of being on Quantum Leap?
Oh my God. Quantum Leap was my first job when I moved out to California, and I hadn't seen the show. [Laughing] But I remember the costume fitting, "Why are they putting me in white pumps and a denim dress?" But I was too shy to say that I didn't like the costume. But it was total '80s and I remember thinking.... OK, he's a really good actor, but my first day on the set with Scott Bakula, he was in pearls and easy spirit pumps and I was like, "This show is insane!" I was definitely psyched to get the job, and I was so excited just to be on TV. What are your other favorite shows?
Well, not necessarily my favorite, but I am also curious about your appearance on Home Improvement?
Oh my God... that. You know what was interesting about being on that show is that I remember on a lunch break, Tim Allen looking at the trades and seeing what number they had placed that week, or something. It was so new in their season that they didn't know if they were going to be a hit or not. I was on during the first 12 episodes, or something. So, looking back at what a huge hit the show was... And going to lunch in the commissary with another actor that was hired with me, Pam Anderson. [Laughs] She was very sweet. She was the Tool Time girl! So, it's more hindsight with that show.
Better costume than Quantum Leap?
Well, I don't know about that. [Laughs] But, yeah, the four camera setup on a comedy is not easy for me. I prefer ways of The Office -- the single camera. It's hard; it feels like theater but it's not. There's an audience but you can't play to them, you play to these cameras and it kind of messed with my instincts.
And the last one is a show I really liked, Brooklyn Bridge.
I love that show! I was hoping you were going to say that. Yeah, in that one episode I was the young Marion Ross in a flashback. That was a day, I shot for a day.
You were the young Mrs. C from Happy Days. I remember thinking, "Oh, so that's what the young Mrs. C looked like."
I played the young Mrs. C! Yeah, that was a thrill.
I was going to ask what you had coming up... other than America's Scorn.
America's Scorn actually comes out at Christmas. It's a Christmas release, yes. It's me and Vin Diesel.
If you starred in a movie with Vin Diesel called America's Scorn, I would see this movie.
I trained for three years for my action sequences.
And your character's name is Melanie Scorn.
Melanie Scorn, right!
And she just got out of prison, and she and Vin Diesel are on the run.
Exactly! Right, they were married and they went their separate ways. But! They still work together.
OK, seriously, what do you have coming up?
[Laughing] I think America's Scorn might be my best bet, I don't have anything coming up, sorry. So... I think I'm actually going to have to look into America's Scorn.
OK, we're going with that for reporting on your next project. America's Scorn it is...
[Still laughing] It's the end of the day, we're both losing our minds.
Follow Mike Ryan on Twitter
Follow Movieline on Twitter
Pages: 1 2