Kristen Wiig on Paul, Her Future at SNL and How Her Mom Doesn't Like Gilly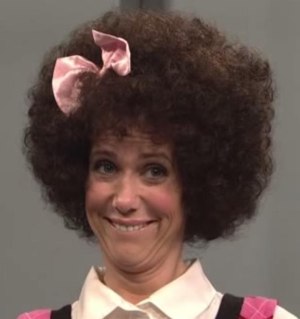 Do you feel that Gilly is polarizing? I feel it's a character that people either love or they don't particularly like.
Uh... yeah, probably. I mean, the first time that I did it, my mom, the next day was like, "Oh, I did not like that. That new character you did, I did not like her!" [Laughs]
When you thought of that character, did you figure some people wouldn't embrace her?
No. I mean, I think that before I do anything.
Really?
Well, because people are going either going to love it or they are not going to love it. But I can't think about that stuff when I'm writing something. You know, it's great when they like it, but, if they don't, they have their right to not like it. But, I don't know, I enjoy doing it.
You're kind of a chameleon in that way. I mean, there are people who don't like Gilly...
Thanks! [Laughs]
You're welcome! But someone who doesn't like Gilly can love Penelope. It's not you -- it's just your recurring characters are different.
I don't think about it at all. If you're creating anything at all, it's really dangerous to care about what people think.
I've read that you've traveled around with Lorne Michaels for the last wave of SNL auditions?
No.
Really? I've read that in numerous places.
I went to a Groundlings show when they all went to look at people. I went with them just because I'm in the Groundlings. But I don't know if you would call that scouting.
Well, people are.
Oh, no. No. I think I did read that somewhere, too.
Yeah, I remember thinking, "Oh, wow, Wiig's in charge now!"
[Laughing] No. I'm not in charge. Oh, they might have been talking about when you did audition. I did get to see the tapes -- the audition tapes. But it wasn't like I had any clout in the decision.
OK, so no clout...
That people are saying? No. But that's an OK remark! I'm just kidding.
In the entire SNL cast, Bill Hader, Jason Sudeikis and you have the most active film careers. Has it crossed your mind to leave SNL soon to further pursue your movie career?
I still have some time left at SNL. And hopefully I'll be making movies for a really long time. I love doing it, it's what I've always wanted to do -- that and being on SNL. So I feel extremely lucky right now. I'm very happy. I hope to be able to do more dramatic things and direct sometime. But right now I feel extremely grateful to have the situation that I have doing SNL and then on the hiatus, hopefully, working on films. I couldn't be happier.
So, movies is where you want to be full time. Eventually.
Yeah. I mean, I can't be on SNL for the next 20 years.
Hammond came close.
No, he wasn't on that long. He was on, I don't know the exact number, I think it was around 10 or 11. But I'm not leaving right now!
And you have Bridesmaids coming up...
I'm really excited about it!
It's funny, when I mentioned to a few people that I'd be talking to you, they all brought up Bridesmaids.
Well, I wrote it with one of my best friends in the world who's my writing partner, Annie Mumolo, who's amazingly funny and so f*cking talented. Yeah... I said it.
We allow that word on the Internet.
We f*cking wrote this script... No. We started writing it almost five years ago for Judd [Apatow], which, on its own, to me, was just an amazing opportunity to go through that whole process with him and rewrite the notes and learning how to write a movie. Neither one of us had any experience at all. And then to have it actually happen and have Paul Feig direct it -- who is one of the best people I've ever known. I still pinch myself, I can't even believe it's going to be in theaters. And it's real. I'm so excited.
How was that, writing with Judd? Obviously he has experience on how to make a successful movie. Would he read the script and say, "No, that part won't work in a movie."
It was never, "No." It was more like, "Maybe we could punch this up. Do you guys have any other ideas? Why don't you think of 10 more things." Sometimes it would be one of those 10, sometimes it would be the original thing and maybe we would shoot some of the other 10. It was very collaborative, there are scenes in the movie that are his idea.
From the way you're talking, it sounds like Bridesmaids is your pride and joy.
[Nodding head vigorously] Yes!
So this last question is kind of silly...
I like silly questions.
When did Penelope become supernatural?
[Laughs] Actually! You know what's funny about that? The first time that we wrote it, I wrote it with John Lutz, who's now on 30 Rock. We couldn't think of an ending so, just kind of as a joke, we wrote in that she would fly away at the end. And then it was one of these, "We'll figure out the real ending later," but we couldn't figure out anything at the table. And then, I think the very first one, they were like, "Is she really going to fly away?" I can't remember in the first one if I did anything. I can't remember the first one, I'm so sorry. But then after a while, we just thought it would be funny that in one of the long list of the things that she says that she does, what if she actually did it? And then at the end you're like, "Wait? So are all of those things true? But they can't be true. How did she grow a beard and how is she two inches tall?" I don't know, I'm a fan of the absurd and silly and, to us, that made us laugh.
It changed the dynamic of the sketch. The first time I saw her do something supernatural I said, "Wait, I guess she's not lying about anything. She has powers!"
I really can't remember if in the first one of she did wind up flying away or not -- or something happened. I do remember that when we wrote it, because with sketch writing the ending is the hardest part, we could not think of an ending. It was the middle of the night and he actually did the sound effect with his mouth and I'm like, "Just put that in and do that sound effect at the table and we will see what happens." And then it ended up getting picked and we were like, "Oh, shoot, now we really have to think of an ending." [Laughs] No one has ever asked me that before.
Follow Mike Ryan on Twitter
Follow Movieline on Twitter
Pages: 1 2