30 Straight Actors Who Have Gone Gay For a Film Role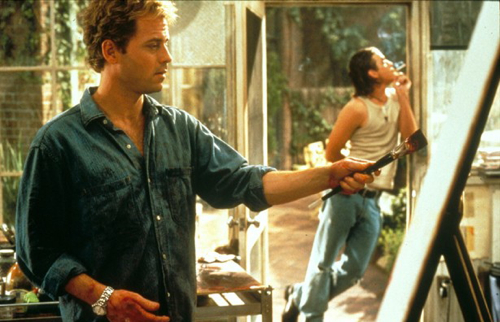 · Greg Kinnear, As Good As It Gets (1997)
The As Good As It Gets actor earned both Oscar and Golden Globe nominations for his role as a gay artist who is reluctantly taken under the wing of his obsessive compulsive and judgmental neighbor (Jack Nicholson) in this James L. Brooks comedy.
· Jonathan Rhys Meyers and Ewan McGregor, Velvet Goldmine (1998)
This Todd Haynes film featured Rhys Meyers as a glam-rock icon, akin to David Bowie, in the 70's and his lover, played by McGregor.
· Matt Damon, The Talented Mr. Ripley (1999)
Damon earned a Golden Globe nomination for playing an identity thieving opportunist who ultimately kills his lover to save his image in this Anthony Minghella thriller.
· Hillary Swank, Boys Don't Cry (1999)
Hillary Swank won the first of her two Academy Awards for portraying a transgender young man who is savagely murdered after it is discovered that he is biologically female in Kimberly Peirce's indie.
· Ed Harris, Julianne Moore and Meryl Streep, The Hours (2002)
This Stephen Daldry drama famously won Nicole Kidman an Oscar for donning a prosthetic nose and playing Virginia Woolf -- but it also accumulated an assortment of Oscar and Golden Globe nominations for its supporting three actors who all played gay and/or sexually confused characters.
· Charlize Theron and Christina Ricci, Monster (2003)
Just three years after Hillary Swank won an Oscar, Charlize Theron followed suit for her role as a former prostitute turned serial killer. Ricci played her devoted on-screen lover.
· Joseph Gordon-Levitt, Mysterious Skin (2004)
After being sexually abused by his baseball coach, Joseph Gordon-Levitt's character turns to prostitution and crime in this drama from Gregg Araki.
· Heath Ledger and Jake Gyllenhaal, Brokeback Mountain (2005)
Their oft-parodied roles in Ang Lee's romantic drama -- as married cowboys who share semi-regular Wyoming rendezvous -- earned both Ledger and Gyllenhaal Oscar nominations.
· Tracy Morgan, The Longest Yard (2005)
Even Tracy Morgan went gay for a paycheck -- but his cartoonish turn as Ms. Tucker, a gay inmate who lusts after every other male prisoner in this Adam Sandler flick, was gravely insulting and even worse, enormously unfunny.
· Philip Seymour Hoffman, Capote (2005)
Hoffman's portrayal of Truman Capote during the writing of his famous book In Cold Blood, swept both the Oscars and the Golden Globes.
· Sean Penn, James Franco and Emile Hirsch, Milk (2008)
The role of gay rights activist Harvey Milk earned Sean Penn both an Oscar as well as a Golden Globe nomination. James Franco and Emile Hirsch also starred as Milk's lover and mentoree respectively.
· Colin Firth, A Single Man, (2009)
This stunning Tom Ford film won Colin Firth an Academy Award nomination for his portrayal of a depressed British professor who mourns his longtime partner in the span of a single day. comprehensive
· Ewan McGregor and Jim Carrey, I Love You Phillip Morris (2010)
This year's comedy featured Jim Carrey as a con artist who falls in love with a fellow inmate played by McGregor. Graphic sex and cuddling included.
· Julianne Moore and Annette Bening, The Kids Are All Right (2010)
Their roles as loving-if-dysfunctional partners and parents of two could win Julianne Moore and Annette Bening (who have already been nominated for Golden Globes) bids in this year's Academy Award race.
Pages: 1 2