Malin Åkerman on Romantics, Romcoms and Her Surprising Truth About Improv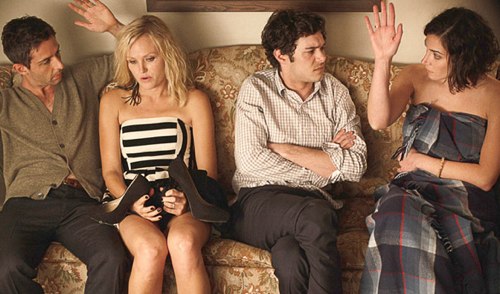 You mentioned a moment ago that this is kind of a more literate version of the romantic comedy. But you're generally in standouts of a genre that's gotten bludgeoned over the last few years.
Yeah, there have been a lot of bad ones.
But you've done good ones -- this, The Heartbreak Kid, The Proposal -- for the most part. How do you choose them?
You just don't know. You jump in kind of blind. There have been scripts that I've read that I think are hilarious, and then you see them done and say, "Wow, what went wrong?" So it's really hard to tell. I think you have to go with your gut instinct. I think I have to go with the ones that make me laugh, or the characters who are interesting to me that I think I can do something with. I don't ever want to play a character -- not that she can't be a bitch or anything -- that I wouldn't personally connect with. I think it's just a matter of choosing something challenging that you think you can shine in. For me, anyway. It keeps me alive and awake. But you don't ever know. I've been lucky that the scripts I read were funny on the page and worked out onscreen as well.
I have to say: Couples Retreat, when we got that script, was a work in progress. What you see onscreen is not at all what you saw in the first draft. There was a lot of rewriting during, before, and a lot of improv. That happens a lot with comedies I've been in. There's always a lot of improv, which is the magic of the moment. That's fun as well.
It seems like there's a lot of improv in this one, which is kind of surprising considering the filmmaker adapted it from her own novel.
Yes, there is. Galt is so amazing. She was so open to any kind of suggestion. She just really understands, because she's produced a lot as well. She's not just a writer in her first time on a film set. She understands that characters come alive when you let the actors come alive -- when you let the actors live and breathe them. The tone of the character shifts a little bit, and if you allow that to happen, I think that makes it more natural and more believable. She was open to allowing that to happen. And once you know who your character is -- when you do enough preparation -- you go in and do improv and you're on that same path. You may be using different words, but you're saying the same thing. You have the same arc.
And you feel pretty good doing improv?
I really do. Also, I'm highly dyslexic, so it takes me a long time to learn lines. I get horrified when I have to do table reads with the whole cast, because there's a lot of stuttering coming from me, so I have to do a lot of prep. Whenever there's improv, I'm like, "Great! No lines." It's so funny, because you do get directors who are more adamant about the words -- especially writer-directors. They want the words to be precise. And I do end up changing words, and it doesn't make sense, and I understand why they want me to say the words because I switch sentences up. It's just the dyslexia that comes in. So sometimes I have a really hard time learning sentences and lines. That's when it's nice to have a lenient director: "Oh, yeah, sure... that works!"
Getting out of the idea of genre, what specific characters appeal to you?
I shouldn't say this, but I always love the sidekicks. I want to do a leading-lady role in a film -- absolutely. But I find that a lot of times I get attracted to the sidekick role. They stand out a little more because they're quirkier, they're funnier, they're crazier. The Heartbreak Kid is one of my favorite roles; I loved it so much. But for some reason, those are the characters I really get attracted to because you can have so much fun when you play with them. I always try to ask my directors, "Let me go as crazy as possible, and then you pull me back, so we can making something really exciting out of it." You can give them so many levels.
And I love physical comedy as well. Anything that's physical comedy? Bring it on. But there's nothing specific. Sometimes I just love the movie and want to be a part of it even if the character's not given that much to do or isn't that complex. Or sometimes it might not be the best script but the character's just too good to pass on. No specific genre, either. I mean, I finished a film with Bruce Willis and Forest Whitaker [Catch .44] where I play a drug mule.
A drug mule?
Yeah, well she works for Bruce. She goes and picks up drugs and drops them off. That kind of stuff. She thinks she's a tough chick, but I definitely played with all her layers and gave her some issues that made her really human and vulnerable. If there's one thing that bugs me, it's when sometimes you get these female characters who play tough, but there's nothing behind it. So you see this actress playing tough. And that's why it's hard sometimes to watch women as assassins or whatever.
But then you get the ones who have more of a vulnerability to them, and the toughness comes out of trying to protect themselves or survive. That's a lot more interesting. I tried for that. I don't know if I succeeded, but we'll see what happens. It was a really fun character to play with; it was definitely one of the most difficult characters I've played.
[Top photo: Michael Loccisano/Getty Images]
Pages: 1 2