John Cameron Mitchell on Rabbit Hole, Nicole Kidman's Face and How to Share Power on the Set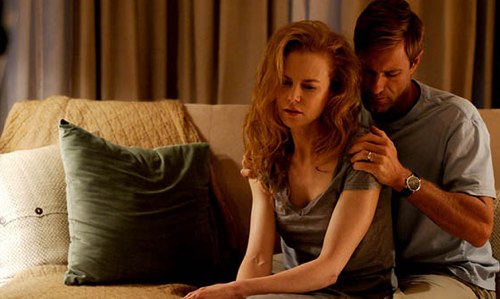 I wanted to ask about that. As someone who's historically super-meticulous about the music in his films, what was it like developing a score for this?
It was different than others. I've had straight scores in both of my films, but there were a lot of songs in those. In this case, I wanted to work with someone who worked with song and kind of a classical pop crossover. That was Owen Pallett. He's from [Toronto] but he had to go off on tour with the Arcade Fire and the schedule just didn't permit. He thought the movie was going to be done in January. And then there was a sudden flurry of people that our music supervisor was presenting. And a lot of scores sound the same, right? There's a lot of...
Tinkling piano and such.
There's just a lot of the usual. And people started aping each other. I was like, "Come on. What happened to the days of Jack Nitzsche? Where someone would go in and you said, "You'll do it. You'll figure it out. Play something on the piano for me." Now it's like everything's samples! And everything has to sound like a string quartet. But I don't believe it; it sounds like synthesizers! So the samples started to affect the style of the films. For example, you can't do guitar samples -- certainly not the classical-guitar, fingerpicking [style]. So people tend not to use that anymore because it doesn't sound good in the samples. They have to record everything, which they don't have time to do or change. Technology in this case has actually changed the instrumentation that people use, which is why you get a certain bit of, "Ah, this all sounds the same."
Now, in our film, what we ended up with was certainly not radical in terms of instrumentation. But the guy we finally found was playing all the guitars, and he was sensitive. He's never had this many shots. The last music cue he had to do like 25 different ways. He said, "I've never in my entire career had to do this many." But the producers were both so anal about getting it exactly right. It drove me f*cking crazy, but in the end, I can feel what they wanted. I'd still do some different things, but it was going where we needed to go. It was strange, but I learned a lot. And I'm always going to be working with other people. And there are times that I am in charge, but it's kind of a lonely place when you have absolute control and you're just making a decision because you're the king. You don't have anyone's ear. Those directors, as we know, can crumble without input. Our great directors start to suck after a certain point if they're kings.
Not to be mean, gossipy or catty, I swear, but this needs to addressed: Nicole Kidman's face. As a filmgoer and a Kidman fan, I can't help but think of how the changing appearance of her face over time affects her characters, her characterizations, and how they're received. Was that a consideration for you as a director, especially shooting close-ups and attempting to capture expressiveness?
I didn't really follow the EW timeline of her face. When I met her, that's who I knew. I sort of remembered some other films. She hasn't been under the knife. I don't know anything about Botox, but she certainly wasn't doing it in our film. In our film, she played the most real person -- looking-wise, acting-wise -- that she has since... Dogville's an amazing performance, though I wouldn't exactly call that quotidian. Sometimes she wears wigs because her hair gets tangly, but we said no -- no wigs. It would save us time, and we'd believe this woman more. And those can sometimes add a layer, no matter how good the wig is.
This was as naked as she can be, especially considering how the character is put together. But shooting on the Red [movie camera] with soft lenses -- we were worried about a hard video look -- was a good match. We didn't glam her up; she's a beautiful woman anyway. But for the first time, she feels like she's her age. She wasn't afraid of the shots where she just doesn't look good -- weeping, this and that. She went all the way. Hopefully this film will kind of reduce all of that, because when you're focusing on something like that, it gets in the way. I mean look: Mickey Rourke did way, much more, and there was a big question about Mickey Rourke's face. So he goes off and does The Wrestler, and now that's his face. Whatever. That's much more extreme. He got past that by playing through it. And yeah -- it's kind of an unfortunate moment in his life that made him feel like he had to do that.
But with her, I think it's higher standards for women; we wouldn't be asking these questions of guys. Unless it's Sylvester Stallone. I feel like there should have been more conversation on that face. But you're right: They bring it on themselves if they're going to go there.
This isn't about gossip, either. I'm talking about in a strictly aesthetic sense. It makes a difference.
I know. People would ask me, "How's her face?" It's just so weird. That was just an augur of the types of films she had made, which weren't of great quality. So what you do focus are things like that: "What is she doing?" And that just says something about her choices in the last few years, maybe.
I liked Margot at the Wedding.
That is good, isn't it? I did my research on asking other directors how to work with her, and heard what I wanted to hear -- that they were very happy with her. That relationship with the son is really interesting and f*cked-up. She managed to make this monster that's kind of reasonable. You know? She's good at doing that. Like, "I'm really crazy, but what I'm saying is in a reasonable fashion."
[Photo of John Cameron Mitchell: Matt Carr/Getty Images]
Pages: 1 2