How Eli Roth Recruited Amazonian Villagers For 'Green Inferno' With 'Cannibal Holocaust' & Boats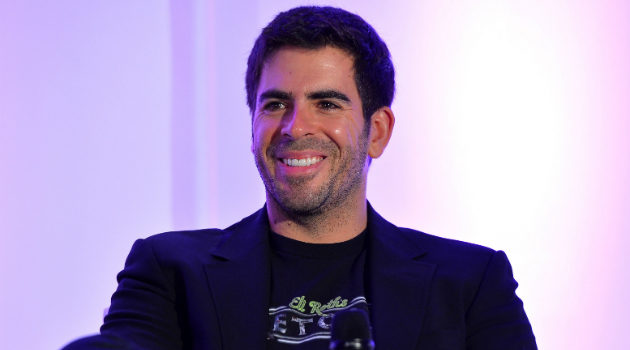 Eli Roth is going off the grid. For the cannibal pic The Green Inferno, Roth tells Movieline he's taking a small crew to a remote village up the Amazon River that has "no electricity, no running water, nothing." Producers recruited many of the 200 native villagers to play extras in the horror film by screening the cult film Cannibal Holocaust. It was the first movie they'd seen in their lives, Roth remarked. "They thought it was a comedy!"

Roth was newly arrived from a South American prepping trip for the film when he spoke with Movieline Wednesday in Los Angeles about his work producing RZA's The Man With The Iron Fists. The Green Inferno marks his first feature since Hostel: Part II, but then Roth's been busy with a number of projects in the past few years, from acting in and directing a short for Quentin Tarantino's Inglourious Basterds, producing films for folks like RZA, Ti West (The Sacrament), and Nicolás López (Aftershock, which Roth also starred in), and directing an episode of Hemlock Grove for Netflix, among other projects. (As if there wasn't enough stacked on his plate, he also recently opened his Goretorium attraction in Las Vegas.)
For The Green Inferno, the tale of "naive do-gooders" who run into cannibals when their plane crashes in the jungle (co-written by Roth with Aftershock scribe Guillermo Amoedo), Roth is taking a page out of the Werner Herzog playbook by venturing deep into the Amazon for what he excitedly refers to as "as adventure."
"The location that we found is truly spectacular," he said. "It's so far up the Amazon, no one has ever shot there. The last person anywhere near there was Werner Herzog for Aguirre, the Wrath of God."
The village is so remote, in fact, that Roth says locals had never seen a film before. "We said, 'Can we shoot here?' and talked to them, and our producers said 'We have to explain to them what a movie is. They've never seen a television,'" Roth recalled. "So we brought a generator and set up a television. I thought they were going to show them E.T. or The Wizard of Oz, but they showed them Cannibal Holocaust to see how much they could handle."
1980's Cannibal Holocaust saw director Ruggero Deodato brought up on obscenity and murder charges when authorities at the time believed the graphic human violence depicted onscreen was real. How did Roth's new acquaintances react? "The villagers thought it was the funniest thing they'd ever seen."
Roth found that his new cast members' unfamiliarity with film technology was an unpredictable benefit. "Because none of them have ever owned a camera or had any photographs of themselves and no conception of what television or movies are, they're so natural and relaxed. They're amazing. They're not even conscious of what [the camera] is doing to them. I have a whole village full of kids that are funny as hell that will have cameras all over and not even think twice about it. They don't get nervous, nothing."
Deodato himself drew criticism for depicting actual animal deaths onscreen, but another controversial film of the era shot on location with locals, the Italian slavery pic Goodbye Uncle Tom (a reference point for Quentin Tarantino's upcoming Django Unchained), came under fire for hypocritically exploiting the Haitian actors in its cast. Perhaps a stretch, but I asked Roth about the ethics of tapping an entire village to play natives, using the Goodbye Uncle Tom lesson as exploitation cinema's most notorious example.
"Goodbye Uncle Tom is a pretty brutal movie about slavery where you show corks being pulled out of guys' asses and babies being hosed down," he answered, giving it some thought.
"No, because we're giving these people a boat," Roth explained. "They have no contact with the outside world and we're giving them a motorboat — that's the deal. And we're giving them medical supplies and school supplies, so they're ecstatic. The one thing they need is a boat. They were like, 'This will literally change our lives.'"
Roth begins filming The Green Inferno in two weeks. Stay tuned for our full interview for The Man With The Iron Fists, out November 2.
Follow Jen Yamato on Twitter.
Follow Movieline on Twitter.